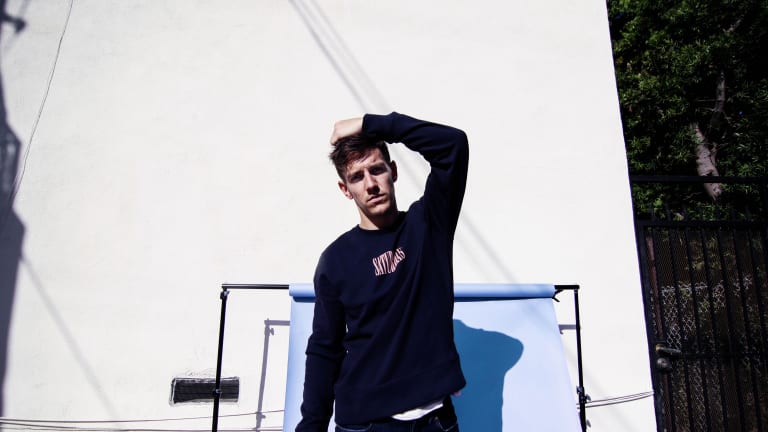 Danny Olson Delivers Unapologetic EP, Waiting, on Lowly. [Interview]
The three-track effort explores the idea of waiting on fate told through the lens of Danny Olson's masterfully produced "cinematic bass" style.
Fresh off his orchestral-inspired remix to SLANDER's "Love is Gone" and his highly-acclaimed Lowly. single "Delineate," Danny Olson is back again to impress on the Trap Nation imprint with his unapologetically unique EP, Waiting.
Film scorer, DJ, producer and classically trained musician, Danny Olson is an all-encompassing musical virtuoso. Growing up with an eclectic background and finding inspiration in every corner has left the Chicago-born producer with a unique style interwoven with facets spanning across a multitude of genres. Though the easy route for Olson would be following the formula for producing a hit EDM track, Olson has stayed true to his style, which he has dubbed "cinematic bass."
Last month, Olson released his aptly named, self-defining track, "Delineate." Characterized by epic crescendos and thundering percussion, Olson's sound fuses his prolific background in classical music with his evergreen love for EDM. His latest release, Waiting serves as a sonic landmark of his refusal to compromise any aspect of his musical talents to fit the standard mold.
Trailblazing your own genre certainly isn't an easy task. Danny Olson opened up about waiting on fate, his struggles as a producer, and his personal musical journey in an interview with EDM.com. Check it out below.
Before we get to talking about your EP, you just released a massive remix of SLANDER's "Love is Gone" a couple of weeks ago. How did that relationship happen?
Danny Olson: It was kind of interesting because I knew of them, but I didn't know of them making songs like that. "Love is Gone" is a great single and different from their much harder stuff. To be honest, I was never like, "I should remix SLANDER," because I have gotten good at listening to my gut at what I think will work. Generally, my originals are a lot more uplifting and passionate. When I look for a song to remix, I look for a song that's pretty heartfelt and lyrical. "Love is Gone" was that song, I just wasn't aware of it. I just got really into it and I knew I only had about a week, so I just went to town and did a bunch of orchestral stuff, made it epic and huge, and they loved it. Some remixes and opportunities take months to unfold and you're kinda' left waiting and guessing and this one literally happened in a week and a half, which is really, really fast.
"Delineate" was so aptly named for the message you were trying to get across. How did you go about naming this EP?
I'm really interested to hear what people think about the title track on the EP because it isn't like "Fix You" or "Love is Gone" or "Delineate." It's much more like ODESZA meets Sigur Rós, it's hard to describe. I wrote that track a long time ago. I wrote my own topline to it that we didn't end up using, but the idea was about waiting to go, waiting to get there. I was feeling frustrated with the fact that we constantly see these really young producers who like Martin Garrix, get a banger viral single, and all of a sudden they're 21 and touring the world. Like a Loud Luxury. I don't know them, but it seems like the rise to stardom is really fast and there's no reason to hate on that at all. But of course, I'm human and I get jealous. I'm not at that level yet, and I've been working on this for so long, it's just my overall sentiment in that moment was that I'm literally waiting for my turn. It felt empowering to be making something like that and to be excited about the sound, but it's also like I'm a victim to fate. It's almost like I have no control and that's hard for me because I'm a super hard worker and very driven. For me, it's like if you work harder, you're gonna get there faster. But there have been so many times I have felt like I had setbacks - all of which is completely normal. I feel like that song and the whole EP, in general, is kind of that idea in a box. I'm just trying to make music that resonates with me and I hope people can hear that.
How do you go about staying true to your sound?
What sets me apart is that I have been DJing since I was 11, I was buying equipment and saving up when I was in middle school and DJing middle school dances, no joke. I've been around music and downloading random virus-laden Russian trance music since the late '90s when I was a kid, and I have this idea that what set me apart is I've been doing it for a while. And I'm also a classically trained musician. So I bridged this film music background, which is what my major was, with this sort of this love for big, passionate, Swedish House Mafia-type, soaring EDM. And I had to find a way to marry these worlds, so kind of going on that route and making that sound and developing this "cinematic bass" category that I have been writing in, it feels so right. I've written a lot of music that didn't feel authentic before. As an artist, you're very in touch with, or should be in touch with, if you're writing for plays or if you are writing stuff that you're really, really proud of. At the end of the day, even if this gets 500 plays I'm still happy it's out there. I've done a lot of remixes over the years thinking, "Oh well, Justin Beiber came out with a single and I remixed it and it feels flat." That feeling is very opposite to something like "Delineate" where I had that idea in my head five years ago and I had been tweaking it. I swear the version we released was like version 76 or something. So that song is something that represents me chasing that sound, it didn't need vocals and it wasn't this bare-bones instrumental. It's kind of an expression. It's a saying in and of itself.
Producers deal with similar issues to one another, and up-and-coming or aspiring producers look to artists like you for advice on tough topics like this. What advice could you give them on staying true to yourself?
I've been in duos and trios and I've collaborated with a lot of people. At the end of the day, you have to know if you're in it for the right reasons. This goes with any career path. I am a firm believer that you aren't given passion, it has to be developed. And things can change. Stay true to what you feel and don't let your age ever be a dictator to that. Far too many people are like, "Well, I missed the boat," or "I have this career and I'm making okay money and I can't leave the security of a paycheck," and yes, that's all real, but if you're really into something or think you want to explore it you should go for it and you should understand it comes in waves. Every artist or creative feels those self-doubt days. The thing you need to look for is if that feeling is consistent. You just kind of know. If you're doing something for other reasons, you will burn out.
Musically, it's clear you're inspired at every angle. Besides music, what the other mediums from which do you draw inspiration?
I really like buildings and anything that has really eye-grabbing color. Ironically, I very much dress in all black or a little bit of white, but the one thing that stands out in my wardrobe are my shoes. I love things that are unapologetically wild, like an Andy Warhol painting. Something that you look at and you're like, "I'm drawn to that, even if it's a little offensive." So, definitely architecture and fashion and the art form of how people dress. This whole album aesthetic is very light blue and light pink. "Delineate" was very bright, it was pink, and when I closed my eyes and listened to it I was like, "These are the colors that resonate with me." So I would try to connect that with the way I dress or the way I took pictures.
Where was your mind when you made "Galaxies?"
"Galaxies" was interesting because I had a topline and vocal I liked, but somewhere along the way I just fell out of love with it. The instrumental was cool and I liked the writing, but I couldn't live with the song anymore. And then Tory Ruperto wrote to it and we had a session and I loved her idea. It was really celestial and the name "Galaxies" plays very well into the interstellar and space aspect of my branding. We worked the vocals back and forth and we landed on this middle track, and I was like, "This is perfect." This is a good representation of a larger-than-life concept, but it's still I think pretty mainstream dance and relatable. It felt right to add into the EP.
Going off these interstellar vibes, one of your pieces was used in the trailer for Ad Astra, is film scoring something you plan to continue doing?
Absolutely, 100%. That track is under Hidden Citizens, which is me and another guy and we started this trailer music company together years ago. We don't play shows, we are unnamed, but that is all trailer music and music for TV shows and stuff like that. That's where all my classical influence goes. It's not a Danny Olson release, but it's an artist I portray. It's cool because I don't have to think about creating an EDM song or a song that will work at a festival, I'm thinking in terms of, 'How do I enhance the storyline of a major motion picture?'
What can fans expect at one of your live sets?
My live sets as an artist are all over the place. I love house music, so I don't only play future bass. I grew up listening to house music and going to underground trance raves before I was 18, so I love the four-on-the-floor stuff and I love playing the deeper, grungy progressive stuff. But I also play a ton of hip-hop throwbacks and trap, so, my sets are pretty all over the place. My only goal is to entertain.
Stream or download Danny Olson's Waiting, out now on Lowly. 
FOLLOW DANNY OLSON:
Website: dannyolsonmusic.com
Facebook: facebook.com/dannyolsonmusic
Twitter: twitter.com/dannyolsonmusic
Instagram: instagram.com/dannyolsonmusic
SoundCloud: soundcloud.com/dannyolsonmusic
FOLLOW LOWLY.:
Facebook: facebook.com/lowlypalace
Twitter: twitter.com/lowlypalace
Instagram: instagram.com/lowly
SoundCloud: soundcloud.com/lowlypalce