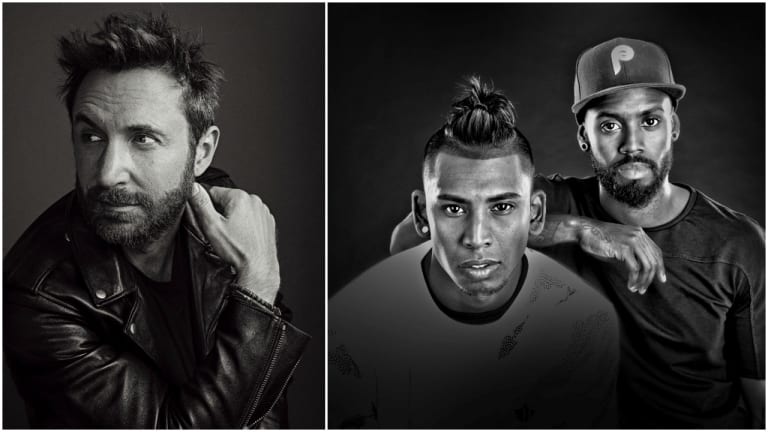 David Guetta and GLOWINTHEDARK Make You "Jump" in New Collab [Premiere]
David Guetta and GLOWINTHEDARK have delivered an eclectic main stage weapon.
Building upon a history of collaboration that resulted in singles like "Clap Your Hands" and a remix of Fat Joe and Remy Ma's "All The Way Up," David Guetta and GLOWINTHEDARK have joined forces once again. "Jump" is due out tomorrow, October 3rd, but EDM.com is proud to premiere it exclusively a day in advance.
A energetic vocals set the energy level of the track early on, with rumbling bass kicks sounding out underneath. "Jump" pairs elements of South American and Middle Eastern effectively, marrying the two influences to yield a cohesive whole. The three artists clearly recognize how diverse the crowd is that gathers at the foot of the main stage.
Boasting a career in electronic music that dates back to the '80s, Guetta is no stranger to bridging different worlds with his sounds. GLOWINTHEDARK's debut single arrived in the form of 2010's "Electronic Life," and in 2013 the Dutch duo comprised of Albert Harvey and Kevin Ramos released "Ain't A Party" on the Frenchman's imprint, Jack Back Records. If their relationship thus far serves as any indicator, the three artists will team up on many more releases in the coming years. 
"Jump" will arrive by way of What A Music, another Guetta imprint tomorrow, October 3rd. It will be available here.
FOLLOW DAVID GUETTA:
Facebook: facebook.com/DavidGuetta
Instagram: instagram.com/davidguetta
Twitter: twitter.com/davidguetta
Soundcloud: soundcloud.com/davidguetta
Follow GLOWINTHEDARK:
Facebook: facebook.com/DJSGLOWINTHEDARK/
Twitter: GLOWINTHEDARK_
Instagram: instagram.com/GLOWINTHEDARK_