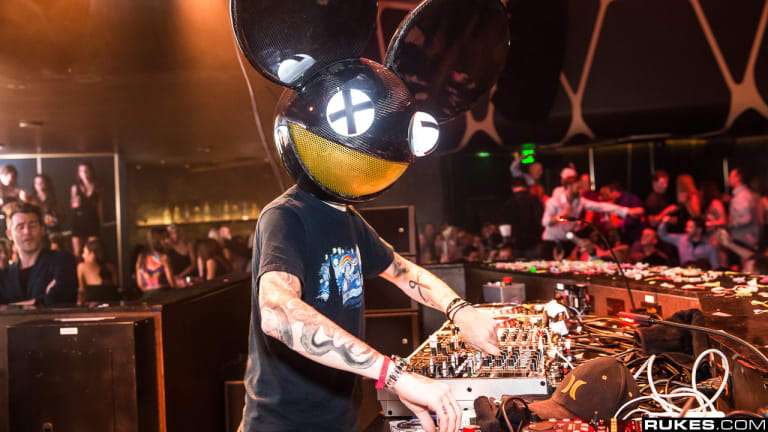 deadmau5 Shares Tracklist for Remix Album, here's the drop!
Pig&Dan, Spencer Brown and others have remixed deadmau5 classics.
A week ago, deadmau5 revealed plans to release an album titled here's the drop! It later came to light that it would consist of remixes of his songs, and now he's shared the official tracklist for the effort.
mau5trap alumni like No Mana, Matt Lange and the fast-rising Spencer Brown each boast entries on the here's the drop! tracklist. Morgan Page is one of the bigger names to offer up a remix - and world-renowned techno duo Pig&Dan are arguably the least expected of the lot.
Because of its title, fans initially speculated that here's the drop might be a sequel to last year's where's the drop?, which saw deadmau5 (real name Joel Zimmerman) team up with composer Gregory Reveret to deliver orchestral renditions of his fan favorites.
deadmau5 (real name Joel Zimmerman) is keeping busy in the meantime with his cubev3 tour. He unveiled the stage show of the tour's namesake at his Ultra Music Festival 2019 performance and subsequently announced a North American tour to take it on the road. He will also participate in a keynote interview on the topic of the production at the Billboard Live Music Summit.
here's the drop! is slated for release on October 4th. Find the tracklist in full below, and pre-save or pre-order it here.
01. imaginary friends (ov) [Morgan Page Remix]
02. luxuria (ov) [Tinlicker Remix]
03. coelacanth (ov) [Gregory Reveret Remix]
04. acedia (ov) [Rinzen Remix]
05. avaritia (ov) [Seismal D Remix]
06. monophobia (ov) [Sian Remix]
07. gula (ov) [Pig&Dan Remix]
08. invidia (ov) [No Mana Remix]
09. unjaded (ov) [Mad Zach Remix]
10. ira (ov) [Gallya Remix]
11. fn pig (ov) [Spencer Brown Remix]
12. hr 8938 cephei (ov) [Mr. Bill Remix]
13. superbia (ov) [Matt Lange Remix]
14. caritas (ov) [Dom Kane Remix]
15. strobe (ov) [PEEKABOO Remix]
FOLLOW DEADMAU5:
Facebook: facebook.com/deadmau5
Instagram: instagram.com/deadmau5
Twitter: twitter.com/deadmau5
SoundCloud: soundcloud.com/deadmau5