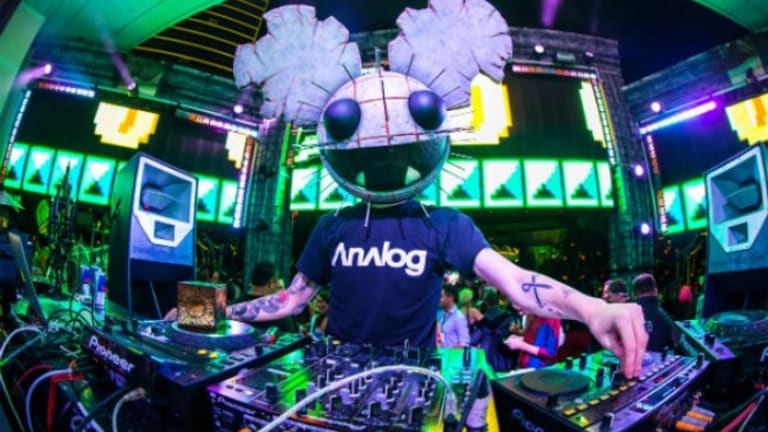 deadmau5 Shares Bizarre Music Video for "Drama Free" ft. Lights
Video of the year?
Accompanying the release of deadmau5' surprise EP, mau5ville: Level 2, is an unorthodox new music video for his collaboration with Lights, "Drama Free."
Directed by Nick DenBoer, the video is an insane, rainbow tentacle-filled romp through space and time. Whether it's the half-naked men playing basketball with their own severed heads or Lights' singing on a mound of human hands, DenBoer's video is anything but predictable.
A baby deadmau5 (real name Joel Zimmerman) dances along to the glitchy sounds, while fellow Canadian Lights punches home her emphatic vocals with style. 
This video is not the first time Zimmerman has recruited the help of DeBoer. For deadmau5 and Rob Swire's track "Monophobia" off of mau5ville: Level 1, DeBoer delivered an equally avant garde offering that may have served as an indirect prequel to the latest video. 
Released on Friday, mau5ville: Level 2 is the latest entry in Zimmerman's mau5trap compilation EPs. Featuring remixes and original tracks created by artists on mau5trap, the mau5ville series is a showcase of up-and-coming talent on Zimmerman's signature label. 
mau5ville: Level 2 is out now courtesy of mau5trap. You can listen to the whole EP below. 
FOLLOW DEADMAU5:
Facebook: https://www.facebook.com/deadmau5/
Instagram: https://www.instagram.com/deadmau5/
Twitter: https://twitter.com/deadmau5
SoundCloud: https://soundcloud.com/deadmau5