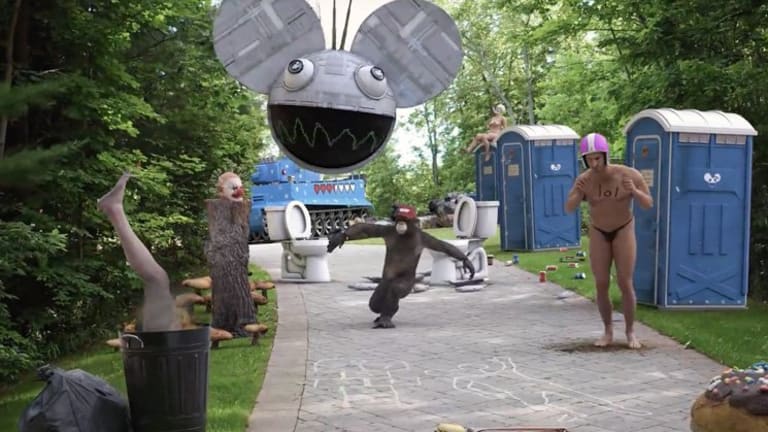 deadmau5 & Rob Swire Reunite for "Monophobia" and its Insane Music Video [Watch]
deadmau5 and Swire reunited and it feels so good!
It's crazy to think "Ghosts'n'Stuff" was released almost a decade ago. deadmau5 and Rob Swire combined their talents to create one of the most iconic songs in electronic music history.
On mau5ville: level 1, out now on his label mau5trap, deadmau5 reunites with Swire for the new single "Monophobia." Now, he invites fans to his home for an out of control party in the track's video directed by Nick DenBoer & Kenny Hotz. 
This music video is bonkers. It features the animation of DenBoer whose unique work I've seen scouring the internet. The fleshy bodies transforming and flailing around are like a train wreck you can't look away from. The dance moves are amazing. There's really no way to grasp what might show up next. I'm here for it. 
In addition to "Monophobia" and an instrumental "Nyquist," mau5ville: level 1 also features additional unreleased tracks including productions by Getter ("All Is Lost" [featuring nothing, nowhere]) and GTA ("Something Like"). The collection also offers remixes of "Monophobia" by GRAMMY award-winning remixer Latroit and deadmau5' mau5trap label artists ATTLAS and Rinzen. mau5ville: level 1 is the first of several levels of new and unreleased original music and remixes to come from deadmau5 in the coming months. 
Discover mau5ville: level 1 here: https://mau5ville.lnk.to/level1