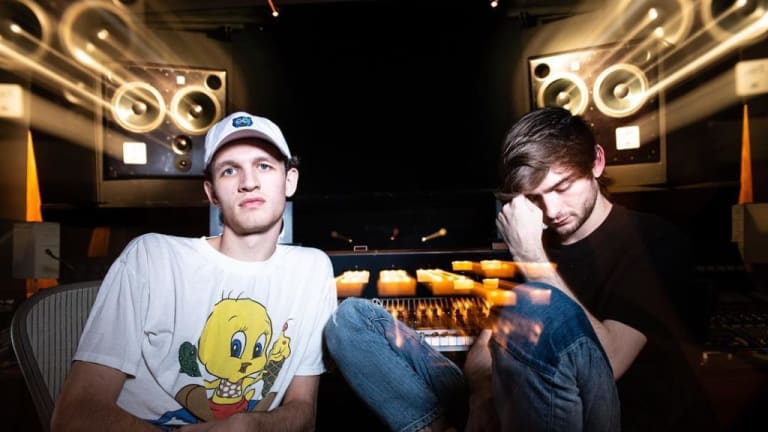 Louis the Child Gives Death Cab for Cutie's "I Dreamt We Spoke Again" a Dreamy Trap Rework
This new track will make you cry dance your heart out.
When you're handed the baton from a legendary band like Death Cab for Cutie, you have to make sure you deliver. Louis the Child did just that. The duo, consisting of Robby Hauldren and Frederic Kennett, teamed up with the famous indie rock band to remix the track "I Dreamt We Spoke Again" off the band's critically acclaimed ninth studio album Thank You for Today, released last August. 
The original track already had an electronic feel to it so it worked as the perfect base for the future bass producers to build off of. The sad lyrics are contrasted with an upbeat production that Hauldren and Kennett transformed into a downtempo trap/future bass ballad. Its dreaminess is not lost in translation. Instead, it has been amalgamated to shine bright for festival stages and wistful car rides alike. 
Death Cab for Cutie explained:
"'I Dreamt We Spoke Again' began as a very muted, low-key ghost of a song, but ended up being one of the more dance-oriented tracks that this band has attempted - though in a very throwback, nostalgic sense. So, it was a treat to turn it over to Louis the Child and have them apply all of the bells and whistles of 2019 dance music production to it."
Louis the Child isn't the first electronic act with whom the band have collaborated. Just this past weekend, Death Cab co-curated and headlined a benefit concert with ODESZA at their shared alma mater - Western Washington State. The net proceeds from the two band's homecoming show were donated to WWU's Alumni Association Scholarship Endowment.
Hauldren and Kennett have been keeping busy as well. They just announced they are working on their debut album. The duo blasted on to the scene back in 2017 with their Love Is Alive EP. Since then, they dropped Kids At Play EP last year and have been touring steadily growing their dedicated fanbase.  
Currently, both Death Cab for Cutie and Louis the Child are on their own respective tours. Catch them out at a city near you. 
FOLLOW LOUIS THE CHILD:
Website: louisthechild.com
Facebook: facebook.com/LouisTheChild
Instagram: instagram.com/louisthechild
Twitter: twitter.com/LouisTheChild
SoundCloud: soundcloud.com/louisthechild
FOLLOW DEATH CAB FOR CUTIE:
Website: deathcabforcutie.com 
Facebook: facebook.com/deathcabforcutie
Instagram: instagram.com/deathcabforcutie/
Twitter: twitter.com/dcfc