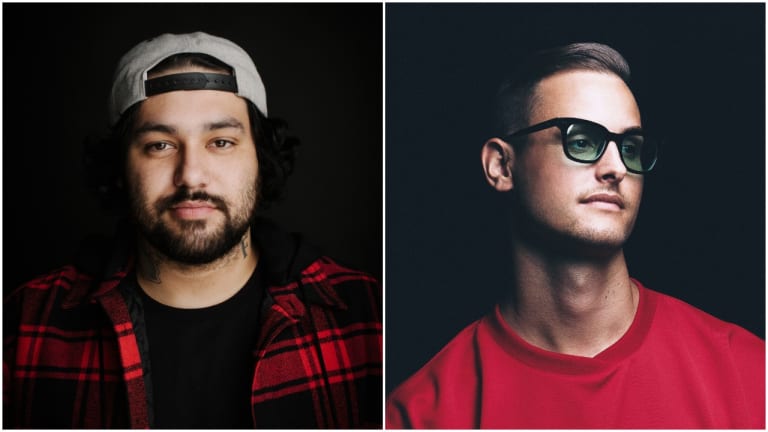 Deorro and MAKJ Reunite for Big Room Banger "Retumba" [Premiere]
The latest collaboration between Deorro and MAKJ exhibits distinct Latin influences.
In a mere 18 months, Deorro and MAKJ will have delivered five separate collaborations. EDM.com is proud to premiere the latest a day ahead of its official release. "Retumba" arrives by way of Ultra Music tomorrow, August 16th, but you can cue it up right here in the meantime.
Latin influences distinguish "Retumba" from most of the recent Deorro (real name Erick Orrosquieta) and MAKJ (real name Mackenzie Johnson) collaborations. The song's trumpeting lead synths and thunderous kick drums give way to syncopated percussive samples shortly before the halfway mark - an interlude that lets up shortly before the second drop.
Between hard-hitting singles like "Bring It Back," "Left Right" and "Munequita Linda," Orrosquieta and Johnson are no strangers to working alongside one another. Their July 2018 release "Knockout" saw them bring Quintino into the fold, interweaving the Dutch DJ/producer's main stage-friendly influence into their sound.
Orrosquieta will resume touring with a performance at Pure Lounge & Nightclub in Sunnyvale, California tomorrow, August 16th. The same evening, Johnson will make an appearance at the Harbour Event Center in Vancouver, British Columbia.
FOLLOW DEORRO
Facebook: facebook.com/Deorro/
Instagram: instagram.com/deorro/
Twitter: twitter.com/deorro
SoundCloud: soundcloud.com/deorro
FOLLOW MAKJ:
Facebook: facebook.com/MAKJOfficial
Twitter: twitter.com/MAKJ
Instagram: instagram.com/makj
SoundCloud: youtube.com/user/DJMAKJ