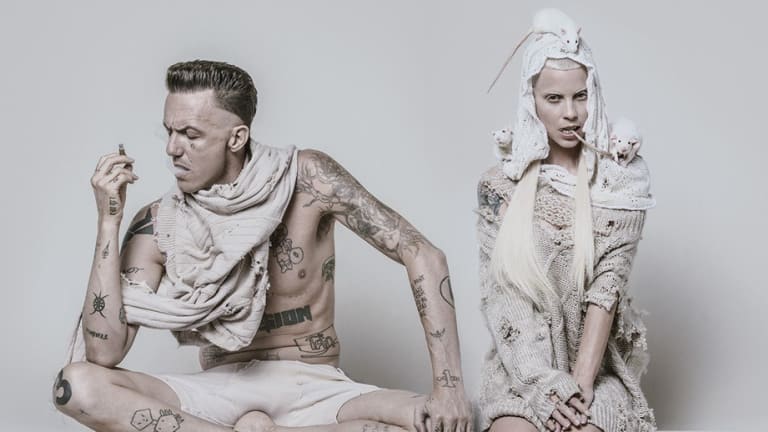 "Not a Hate Crime": Ninja of Die Antwoord Responds to 2012 Video
Ninja said the "cleverly edited" video left out important details from the Future Music Festival incident.
Die Antwoord were dropped from two festival lineups this past week after a video surfaced in which the duo appear to have committed a homophobic hate crime against Andy Butler of Hercules and Love Affair. Ninja A.K.A. Watkin Tudor Jones has made a public statement defending his and Yolandi Visser's (real name Anri du Toit) acts.
In a Facebook post, Jones wrote that the video was "cleverly edited" to look like a hate crime by their former cameraman, Ben Crossman, who he alleges has tried to ruin their public image since they fired him. "This fight had nothing to with the fact that this guy was gay," he wrote. "We dont [sic] care about people's sexual preference. Our DJ and best friend DJ HITEK is gay, and alot [sic] of people in our crew are gay." 
At no point in the statement does he apologize for the instances in which he and Visser can be heard calling Butler a "f*****."
Jones said that Butler had begun antagonized him and du Toit at a hotel restaurant eight years ago, and continued doing so until the incident they filmed at Future Music Festival in Adelaide. He says that prior to the scuffle, Butler followed du Toit into the bathroom and held the door closed so she had to physically push to get out.

"She then ran to me and (our camera man) Ben and told us what just happened," Jones wrote. "This is why we all got up and ran after this guy (which Ben has not included in his edit)."
Jones admitted that "in the heat of the moment" he told du Toit to "be as dramatic as possible," referencing a part in the video in which he instructs her to stop crying and play along when he tells people that Butler groped her.
When Jones appears to attack Butler in the video, he makes no audible remarks to announce that he did so to retaliate on du Toit's behalf.
Neither Butler nor Crossman have publicly commented on the Future Music Festival incident at the time of writing.