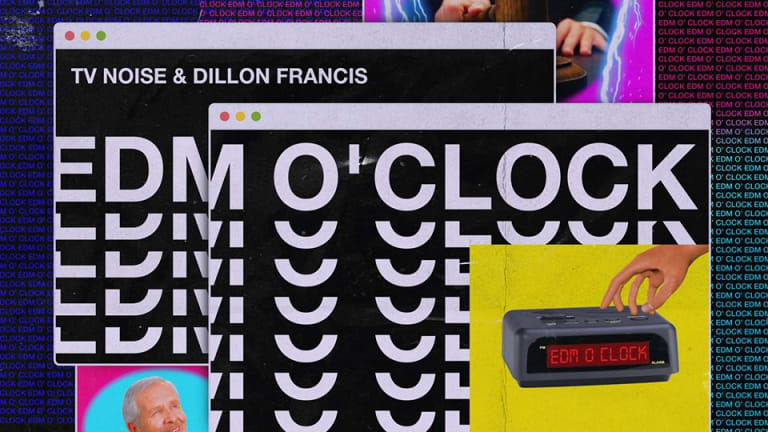 Dillon Francis and TV Noise Release Unconventional New Track "EDM O Clock"
It's time to switch things up!
Earlier this week, Dillon Francis teased the release of his new collaboration with TV Noise, "EDM O Clock." The fresh new track is out today on STMPD RCRDS and features an innovative approach to production. The track changes every four bars into a new direction keeping the listener on their toes. It's great to see a seasoned producer switch things up and try new things. 
"I've had this idea for a long time where the drop of a song changes every 4 bars to something new," reads a post on Francis' Facebook page. "I told the TV Noise guys this idea and we ran with it. I was yelling on the mic all day and we ended up making a song that makes fun of people who make fun of dance music and all drops in dance music right now.... that make sense?"
The high-energy track is accompanied by a hilarious music video that embodies the chaos of the song. Even though the track is a parody on electronic music it's hard to deny it's likeability. It's filled with power horns, bass stabs, and distorted vocals that slap you right in the face and make you come back wanting more! The syncopated beat structure is eccentric, but you can still hear Francis' roots throughout.
Francis is coming off an amazing 2018. He recently released a track with Cuco and is on tour with Alison Wonderland. His career exploded shortly after Mad Decent label boss Diplo discovered him in 2010, and since then he's collaborated with the likes of NGHTMRE, G-Eazy, and Calvin Harris. 
TV Noise, comprised of Jasper Gelderblom and Jelmer ten Hoeve, has been connected with Martin Garrix label STMPD RCRDS for some time. Hailing from The Netherlands, they got their start back in 2010. In 2016, the duo went in a more pop-leaning direction, and incorporated instruments such as flutes and guitars into their sound. It would seem they are back to switch things up again joining forces with Francis. 
FOLLOW DILLON FRANCIS:
Facebook: facebook.com/dillonfrancismusic/
Twitter: twitter.com/DILLONFRANCIS
Instagram: instagram.com/dillonfrancis/
SoundCloud: soundcloud.com/dillonfrancis
FOLLOW TV NOISE:
Facebook: facebook.com/tvnoisemusic
Twitter: twitter.com/tvnoisemusic
Instagram: instagram.com/tvnoisemusic
SoundCloud: soundcloud.com/tvnoisemusic