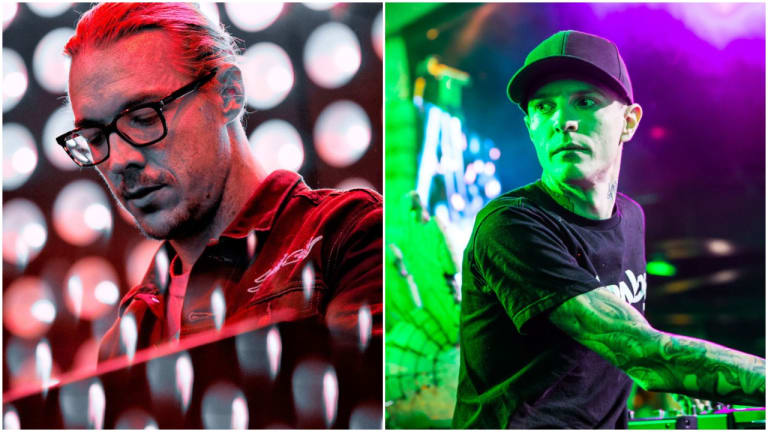 Diplo and deadmau5 Join David Spade on his Talk Show, Lights Out
Last week, Spade brought on Chance The Rapper.
Diplo (real name Thomas Wesley Pentz) and deadmau5 (real name Joel Zimmerman) graced David Spade's Comedy Central talk show Lights Out earlier this week. 
Spade's Lights Out generally consists of skits, jokes, monologues, and guest interactions. Dance music fans get a taste of both, as Pentz partakes in a conversation about Jennifer Aniston and Instagram while Zimmerman goes through the interview process with Spade to become the show's full-time DJ. Although they're brief appearances, moments like this show dance music's clear push into the mainstream. 
Pentz has been nonstop in 2019, kicking off his side project Thomas Wesley by releasing "Lonely" with the Jonas Brothers and "Heartless" with Morgan Wallen as well as his remix of Lil Nas X's mega-hit "Old Town Road." His other side project featuring Labrinth and Sia, LSD, has also been making moves this year, as they've released their debut self-titled album. Pentz has also released a few singles under his Diplo moniker this year including his remix of "More" by Kaskade and Felix Cartal and "JustYourSoul" with Valentino Khan.
Zimmerman has had a busy 2019 as well, as the legendary producer scored the Netflix film Polar as well as released his latest mau5trap compilation, mau5ville: level 3. Earlier this month he also released a remix album for his innovative orchestral album where's the drop? titled here's the drop!
FOLLOW DIPLO:
Facebook: facebook.com/diplo
Twitter: twitter.com/diplo
Instagram: instagram.com/diplo
SoundCloud: soundcloud.com/diplo
FOLLOW DEADMAU5:
Facebook: facebook.com/deadmau5
Instagram: instagram.com/deadmau5
Twitter: twitter.com/deadmau5
SoundCloud: soundcloud.com/deadmau5