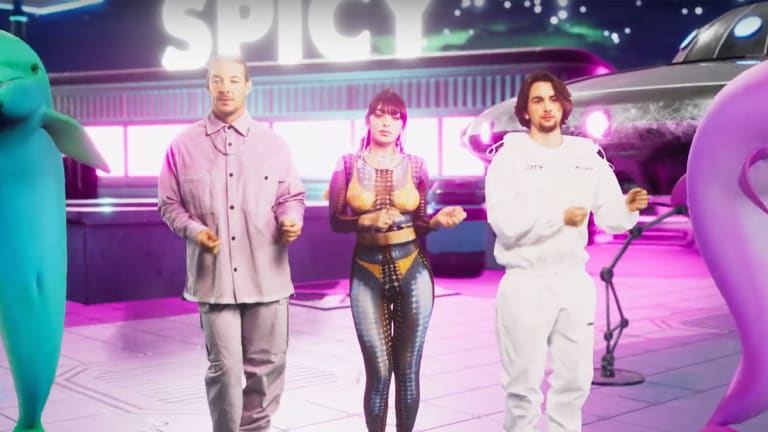 Diplo and Herve Pagez Get "Spicy" on Spice Girls Cover with Charli XCX
The trio gets wavy on a "Wannabe" cover.
Is Spice Girls nostalgia what you want? What you really, really want? Well good, because Diplo, Herve Pagez, and Charli XCX have teamed up to bring one of your favorite '90s bops into the present. 
"Spicy" is a very tropical and sexy reimagining of the Spice Girls mega-hit, "Wannabe." This laid-back remake of the chart topper is a far cry from the original, but the lyrics from the original verses remain, and the groovy tropical guitar riffs are a nice addition to Charli's alluring voice. Pagez and Diplo's team up on the production brings a vibe much akin to dancehall and reggaeton. This one's sure to get the dance floor moving. 
Aside from the nostalgic factor of the tune itself, the music video is quite a spectacle. Neon dolphins, UFOs, and glowing coral reefs are a treat for the eyes in the video. The Spice Girls song isn't the only element borrowed from the 1990s, as the the animations of Diplo and Charli riding the dolphins appear to be expertly crafted to merge '90s-style computer animation with a fun, modern music video that perfectly complements the tune itself. 
Megastar Diplo is certainly a workhorse, and this exciting new collaboration is just another sign that his reign atop the world of EDM (and beyond) continues. "Spicy" is out now. 
FOLLOW DIPLO:
Facebook: facebook.com/diplo
Twitter: twitter.com/diplo
Instagram: instagram.com/diplo
SoundCloud: soundcloud.com/diplo
FOLLOW HERVE PAGEZ:
Facebook: facebook.com/HervePagez
Twitter: twitter.com/HervePagez
Instagram: instagram.com/hervepagez
SoundCloud: soundcloud.com/rvpgz
FOLLOW CHARLI XCX:
Facebook: facebook.com/charlixcxmusic
Twitter: twitter.com/charli_xcx
Instagram: instagram.com/charli_xcx
SoundCloud: soundcloud.com/charlixcx