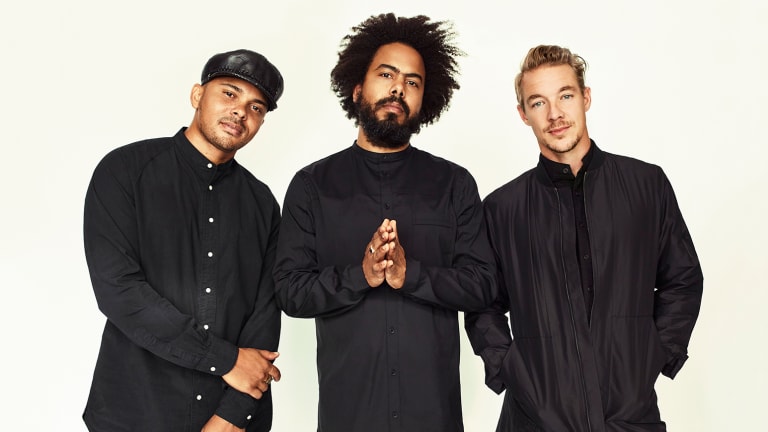 Diplo Hints at Major Lazer and J Balvin Collaboration
Major Lazer has tapped J Balvin for one of the releases leading up to their split.
Major Lazer will not go quietly into the night if Diplo has anything to say about it. The decorated DJ/producer and Mad Decent label boss has revealed that his world-famous group will release a J Balvin collaboration sometime in 2019.
Diplo (real name Thomas Wesley Pentz Jr.) took to Instagram to disclose in no uncertain terms that the joint effort was under way. "We got something very big planned for 2019," he wrote, tagging the accounts belonging to Major Lazer and J Balvin.
In light of Pentz' announcement last year that Major Lazer would disband following a 2019 album, it stands to reason that the track may find its way onto the effort. The group has historically tapped international talent for their culturally eclectic releases - making J Balvin (real name José Álvaro Osorio Balvin) an ideal feature as he hails from Colombia. They've already collaborated with him on "Buscando Huellas" with Jay Sean as well as a "Lean On" remix.
Neither Major Lazer nor J Balvin have revealed a title or release date for their upcoming collaboration at the time of writing.
H/T: Dancing Astronaut
Follow Major Lazer:
Facebook: facebook.com/majorlazer
Twitter: twitter.com/MAJORLAZER
Instagram: twitter.com/MAJORLAZER
SoundCloud: soundcloud.com/majorlazer
Follow J Balvin:
Facebook: facebook.com/JBalvinOficial
Twitter: twitter.com/JBALVIN
Instagram: instagram.com/jbalvin
SoundCloud: soundcloud.com/j-balvin-official