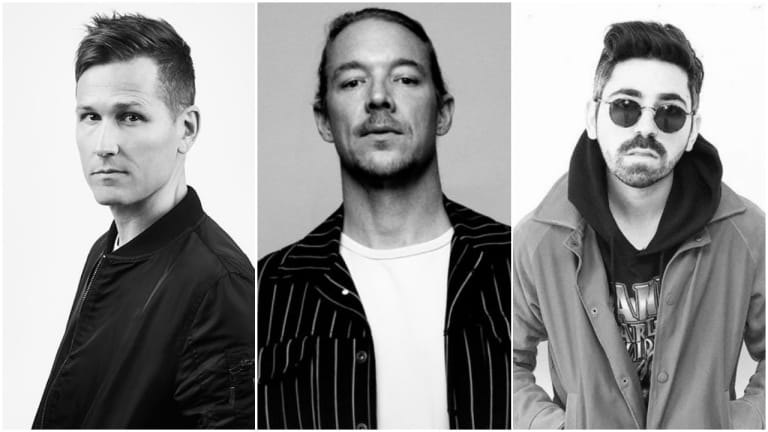 Diplo's Remix of "More" by Kaskade and Felix Cartal is Tech House Euphoria
Kaskade and Felix Cartal also released a shuffle video for the original.
Between his country-inspired project and recently launched label, Diplo has had as much on his plate as ever. Not so much that he couldn't fit a tech house remix into his busy schedule. The Mad Decent (and now Higher Ground) label boss has reimagined Kaskade and Felix Cartal's "More" featuring Jenn Blosil in a gritter shade of the four-on-the-floor spectrum.
The source material's saccharine melodies are nearly absent in the remix offered up by Diplo (real name Thomas Wesley Pentz Jr.). Blosil's memorable vocal is pitched down, chopped up, and stuttered beyond recognition with a gravelly bass line filling the space in the dance floor-ready arrangement.
Kaskade (real name Ryan Raddon) also shared a shuffle video for "More" to his YouTube account. The story-driven visual accompaniment includes clips of dancers Vanesa Seco, Jolie Anastasia, Casey Ontivero, Ally Jane and Ciara Christine Stamper.
Diplo, Kaskade and House Music
Although Raddon's house credentials extend back a bit further, Pentz is no stranger to the genre himself. As the success of artists like FISHER has given house more mainstream visibility, both artists have shifted their focus accordingly. Raddon is making moves to bring his Redux event brand to bigger rooms, and Mad Decent has provided a platform for more tech house releases than ever before. 
Stream or download the Diplo remix of "More" by Kaskade and Felix Cartal across platforms here.
FOLLOW DIPLO:
Facebook: facebook.com/diplo
Twitter: twitter.com/diplo
Instagram: instagram.com/diplo
SoundCloud: soundcloud.com/diplo
FOLLOW KASKADE:
Facebook: facebook.com/kaskade/
Twitter: twitter.com/kaskade/
Instagram: instagram.com/kaskade/
SoundCloud: soundcloud.com/kaskade
FOLLOW FELIX CARTAL:
Website: felixcartal.com
Facebook: facebook.com/felixcartal
Twitter: twitter.com/felixcartal
Instagram: instagram/felixcartal
Soundcloud: soundcloud.com/felixcartal