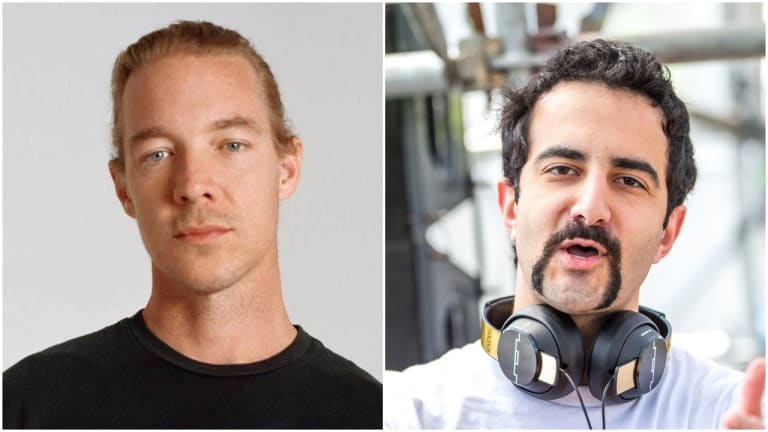 Diplo and Valentino Khan Announce New Collab "JustYourSoul"
Later this week, Diplo and Valentino Khan are set to release a track.
Diplo may have just made an unfortunate announcement in regards to his festival, but more pleasant developments aren't far away. The DJ/producer and Mad Decent label boss has collaborated with Valentino Khan on a song titled "JustYourSoul" that's due out this Friday, July 12th.
Neither artist has shared a preview clip for the song at the time of writing. If Valentino Khan's choice of emojis resulted from more than happenstance, however, it may derive influence from the tropical house genre.
Although Diplo and Valentino Khan have not collaborated on a single prior to "JustYourSoul" (save for production credits on "Bubble Butt" by Major Lazer), their paths have certainly crossed. The latter artist has released music on Mad Decent - most recently "Pony," a song for which he later shared an outlandish promotional video. Back in 2017, he also delivered a mix for Diplo and Friends, a series aired by BBC Radio 1.
Diplo and Valentino Khan will share the stage at Encore Beach Club on August 9th, so fans can likely expect to see them play "JustYourSoul" live together at that time.
FOLLOW DIPLO:
Facebook: facebook.com/diplo
Twitter: twitter.com/diplo
Instagram: instagram.com/diplo
SoundCloud: soundcloud.com/diplo
FOLLOW VALENTINO KHAN:
Facebook: facebook.com/ValentinoKhan
Twitter: twitter.com/valentinokhan
Instagram: @valentinokhan
Soundcloud: soundcloud.com/valentinokhan