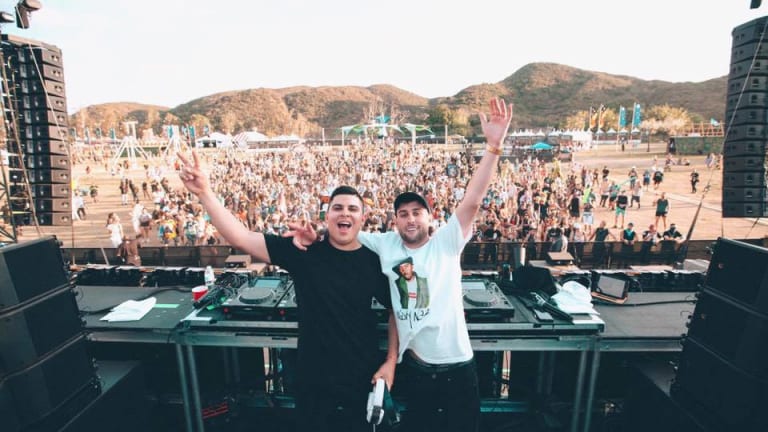 DIV/IDE Proves That They're a "Go Getta" With New Release [Listen]
This unique track is the latest original from the Colorado/New Jersey duo.
Anthony Torres (Colorado) and Jayson Earles (New Jersey) make up the duo DIV/IDE.  These two have been involved in music since they were children.  Jayson has always taken music lessons, playing various instruments such as the saxophone and drums.  After high school, he discovered and became intrigued with the EDM community and figured he'd give it a shot.  In 2008, Anthony became interested in electronic music specifically when he watched his cousin DJ at a few clubs.  After this, he started producing his own music and fell in love with it as a way to express himself.
Anthony and Jayson actually met via SoundCloud.  They naturally clicked and decided to keep working together, forming their duo that was originally called Baewatch.  In 2015, they won Insomniac's Discovery Project and got the amazing opportunity to play a set at EDC Las Vegas!  A few years ago, they changed their name to DIV/IDE.  Since then, they've played at various clubs and festivals around the country such as Decadence Colorado and Nocturnal Wonderland.
Their latest single, released this week, is titled "Go Getta".  This track is a unique mix between deep house and trap, but according to DIV/IDE they are their own genre.  The piece starts out with percussion leading into an almost bubbly sound in the background.  A vocalist (unnamed) can be heard rapping before the chorus.  The lyrics "I'm a D boy and she's a go getta" lead into some seriously low wubs with dirty backing.  One of my favorite elements that repeats itself throughout the track is the lighter two-toned notes that repeat themselves, like at 1:07, bringing contrast to the rest of the piece.  More vocals are added into the bridge before the chorus returns with the same deep sound.  To bring the track full circle, sound elements are gradually removed until only the percussion and bubbly sound remain, fading into silence.
If you like the sounds of JAUZ, BIJOU, or Dillon Nathaniel, you'll surely love this duo.  I'm definitely a house head myself, and can totally see myself dropping it low to this track.  Listen in full below, or click here for more streaming and purchasing options.
Keep up with DIV/IDE by following them on Facebook, Instagram, and Twitter!