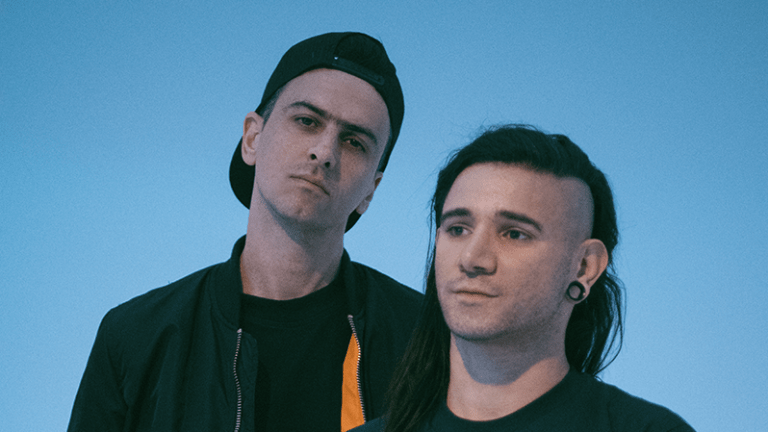 Did Dog Blood Drop a new ID at HARD Day of the Dead?
Fans have speculated that at HARD Day of the Dead, Dog Blood dropped a new ID.
UPDATE: Dallas, Texas producer Juyen has tweeted that the track is in fact one of his upcoming releases alongside Taipei, Taiwan producer RayRay.
During their headlining HARD Day of the Dead performance, many believe that Skrillex and Boys Noize A.K.A. Dog Blood dropped a new ID. Someone on the official subreddit dedicated to all things Skrillex (real name Sonny Moore) uploaded a short clip of the song in question and sparked the speculation.
Although the clip is quite short, one could see why someone might believe the track is a Moore and Boys Noize (real name Alexander Ridha) original. With choppy vocal samples similar to the former's signature style and the intricate bass lines common to many tracks in the latter's library, the clip definitely justifies the speculation.
It's worth noting that this performance marks the first Dog Blood set of the fall and in the past couple of months. At the time of writing, neither Moore nor Ridha have made remarks indicating whether the track in question is indeed theirs. 
FOLLOW SKRILLEX:
Facebook: facebook.com/skrillex
Instagram: instagram.com/skrillex
Twitter: twitter.com/Skrillex
Soundcloud: soundcloud.com/skrillex
FOLLOW BOYS NOIZE:
Facebook: facebook.com/boysnoize/
Twitter: twitter.com/boysnoize
Instagram: instagram.com/boysnoize/
SoundCloud: soundcloud.com/boysnoize