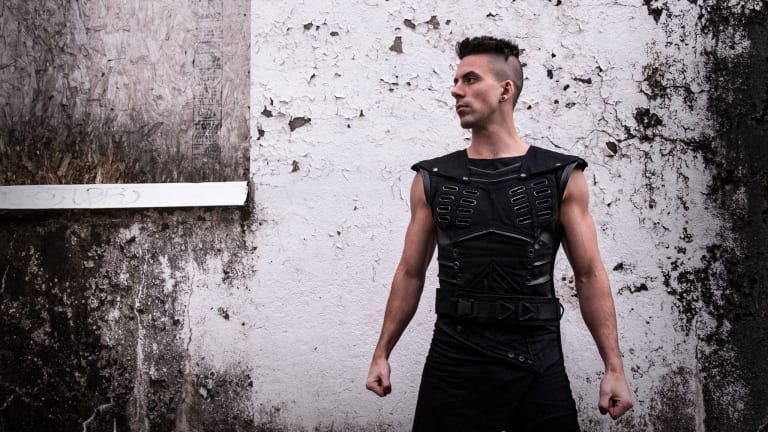 Draeden Takes Us on a Sci-Fi-Themed Expedition in "Arbiter"
Draeden's latest release on Kannibalen Records is a cinematic, intergalactic voyage into his love for fictional worlds.
Fans get the latest installment into the sci-fi and cyberpunk inspired world of Draeden in his new single on Kannibalen Records, "Arbiter."
Known for his strong storytelling abilities and specialty for crafting otherworldly bass tunes, Draeden's thematic style has immersed listeners with every release. The last we heard from the Montreal-based producer was his transformative remix of 12th Planet's "Let It Bang." 
Not too long prior was the bass music community's first taste of the astral-inspired artist in his debut four-track EP, Conquest. In this monstrous, film-ready body of work, Draeden delineated himself as a force to be reckoned with. Keeping with his cohesive branding Draden's next chapter is proving himself as an "Arbiter."
Bringing together elements of dubstep, trap, and classical music, "Arbiter" is a hybrid track fit for the big screen. It opens with ambient, soft piano and as violin is gradually brought into the mix, listeners are met with tension-building, booming bass lines. As it intensifies, in come the electrifying trap elements and a standout drop. 
Aside from his music alone, Draeden further brings his world to fruition with intense visuals. Inspired by video games and futurism aesthetics, his branding is a sci-fi lover's dream. Fans can expect to delve further into his fantasy with new releases coming next year.
Draeden's "Arbiter" is available for streaming across all platforms. Listen to it here. 
FOLLOW DRAEDEN:
Facebook: facebook.com/DraedenOfficial
Twitter: twitter.com/draedenofficial
Instagram: instagram.com/draedenofficial
SoundCloud: soundcloud.com/draedenofficial
FOLLOW KANNIBALEN RECORDS:
Facebook: facebook.com/Kannibalen.Records
Twitter: twitter.com/KannibalenRecs
Instagram: instagram.com/kannibalenrecords
SoundCloud: soundcloud.com/kannibalenrecords