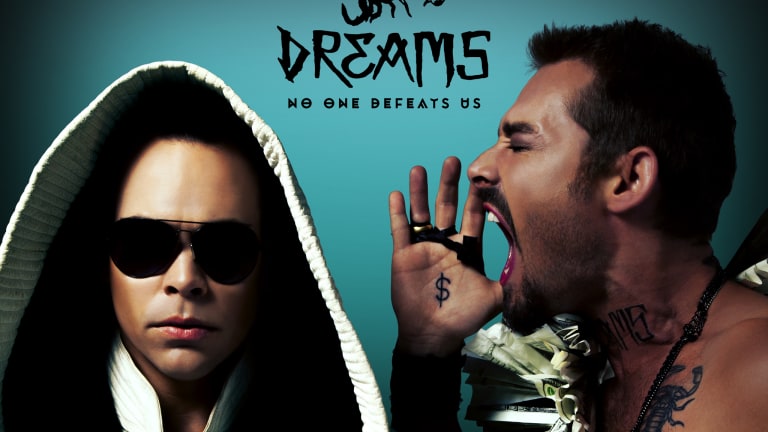 "No One Defeats Us", The Debut Album from DREAMS, Is Out Today
DREAMS is Comprised of Luke Steele Of Empire Of The Sun And The Sleepy Jackson And Silverchair's Daniel Johns
We love a new project! Empire of The Sun and The Sleepy Jackson's Luke Steele and Silverchair's Daniel Johns have linked forces to create the super-duo, DREAMS.  Today, they have released their debut album No One Defeats Us.
Those expecting the lush pop layers and vocal nuances of Luke Steele or the trademark vocal stylings of Daniel Johns won't be disappointed as DREAMS weaves it all together in an odd sonic hybrid of synthesizers and guitars while dipping in and out of pop, dance, hip-hop, and rock. 
The title track and first single, "No One Defeats Us," is a war cry. It's like the exorcism of a bad series of events, or a bad dream. "The single says lyrically what our goal is, it's a journey into our vision of the future," Johns explains. "We wanted to create a gang and have that song as our mantra." "Silence," the last song recorded for the album, was written by the duo in response to the violence that unfolded in Charlottesville in August 2017. Both tracks went on to receive the remix magic touch from the legendary Grandmaster Flash, to spectacular effect. "Love To Live" is a soaring track with stomping kick drums, delicious 80's claps and hovering synths working together creating one of the most satisfying hooks on the record, all punctuated with glistening, quintessential Luke Steele vocals.
I'm loving this pairing. They've created a fun, funky, and thoughtful album. It's the perfect amalgamation of both artists sounds. You can feel their connection!

Take it for a spin and enjoy: 

FOLLOW DREAMS: