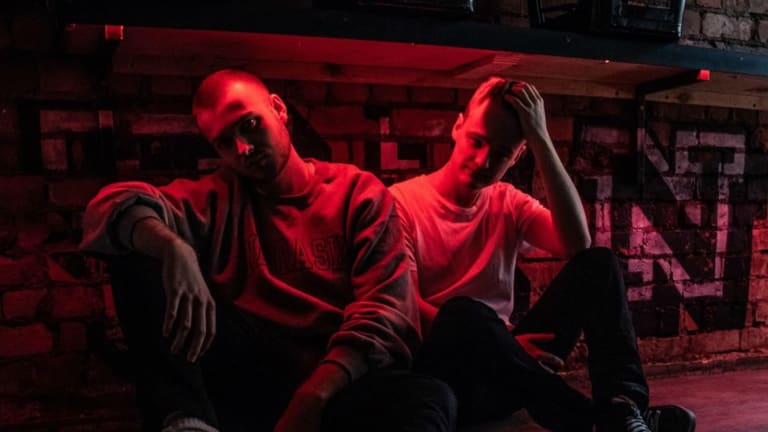 Duke & Jones Unveil the Dystopia EP
Breakout duo Duke & Jones continue their powerful ascent with the Dystopia EP.
Following their previous release on Circus Records, Duke & Jones take a darker, more experimental approach to the Dystopia EP. The release adopts an ambiguous but energetic tone epitomized by the first track, "Fade To Black" featuring Røhaan. It opens with upbeat, melodic vocals to set a tone immediately contrasted by the tune's disjointed drop.
Duke & Jones play with organized cacophony in "Rust." The release's heaviest moment might be described as "post-riddim" by dubstep fans, but the explosive track is laced with softer subtleties pointing to the producers' sophistication. The discordant motif carries through the groovy and uniquely layered half-time tune "Nobody Else."
The Manchester artists' background in dubstep shines through "Higher" featuring Kaku. Reminiscent of early Zeds Dead, The EP's most minimal tune relies on sustained low-end wobbles and resonant atmospheric tones to create a tender yet deceptively heavy vibe.
Duke & Jones' willingness to deviate from cookie-cutter EDM is on full display in the Dystopia EP. Their experimental impulse and knack for deeper, darker sounds pars them with artists like DMVU as leaders of EDM's next musical evolution.
Download the Dystopia EP by Duke & Jones across platforms here.
Follow Duke & Jones:
Facebook: https://www.facebook.com/dukejonesmusic/
Twitter: https://twitter.com/dukeandjones
Instagram: https://www.instagram.com/dukeandjones/
SoundCloud: https://soundcloud.com/dukeandjones