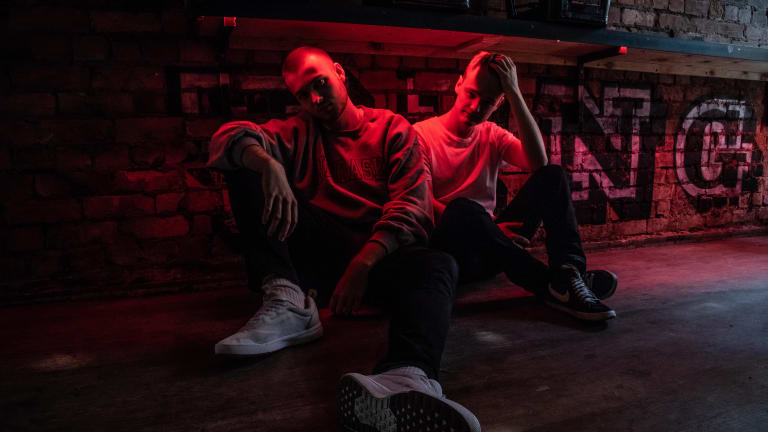 Duke & Jones Drop a Mind-Bender of an EP With Yellow Claw's Barong Family Imprint
The Paradox EP on Barong Family is the latest and greatest release from Manchester production duo Duke & Jones.
Known for their incredibly unique sound design and crisp, minimalistic production, Manchester duo Duke & Jones have taken a step back from their previous vocal-laden records like "Delusions" and "Feeling For You." Instead, they've gone deep down the rabbit hole in pursuit of a darker, dubbier, U.K.-inspired vibe.
Duke & Jones have a hard-earned reputation for crafting compelling and hard-hitting tunes with surprisingly few musical elements. thats exactly what they've delivered for their debut release on Yellow Claw's Barong Family imprint.
The Paradox EP opens with the Lucchii collaboration "Deception." Starting off with a sound that harkens back to the earliest days of U.K. dubstep, "Deception" entices the listener into a haunting interlude that creates an overflow of requisite tension leading up to the massive drum and bass-influenced second drop. 
"Spectral," "Fracture," and "Breach" all maintain the Duke & Jones signature minimalist approach while simultaneously managing to achieve a very feeling full and robust record. Sparse beats, unexpected bass frequencies, and an unrivaled penchant for weaving a tapestry of ominous, bubbly and often mechanical-feeling sounds all come together to make Paradox an essential body of work on the Duke & Jones odyssey.
Stream or Download the Paradox EP today.
FOLLOW DUKE & JONES:
Facebook: bit.ly/Duke-JonesFB
Instagram: bit.ly/Duke-JonesIG
Twitter: bit.ly/DukeJones-TW
SoundCloud: bit.ly/DukeJones-SC
FOLLOW BARONG FAMILY:
Facebook: facebook.com/barongfam
Instagram: instagram.com/barongfamily
Twitter: twitter.com/Barong_Family
Soundcloud: soundcloud.com/barongfamily