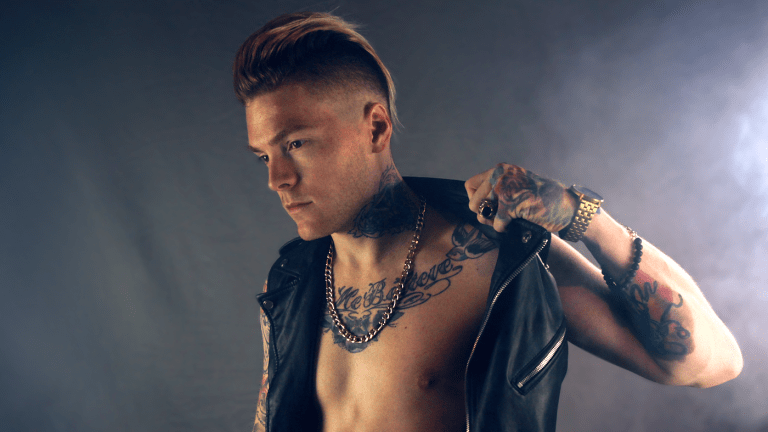 Dylan Taylor's "Cinderella Man" Combines Glam Rock & EDM Perfectly [Premiere]
Check out the video below, and read on for more about Dylan's inspiration, future sound, and favorite pajama pants.
Dylan Taylor, a DJ and drummer living in Houston, Texas, is seamlessly combining glam rock aesthetic with electronic music and we are here for it. "Cinderella Man", his latest track, follows Dylan's last single, "Frankenstein" which landed at #9 on Beatport's Top 100 Electro House chart. 
"Cinderella Man" and the accompanying video perfectly meshes glam rock and EDM. The track opens with melodic piano riffs and distorted vocals, drawing the listener in for drum riffs and a buzzing, sexy guitar solo. Check out the video below, and read on for more about Dylan's inspiration, future sound, and favorite pajama pants. 
EDM.com: How did you develop the future rock sound / what made you gravitate towards it?
Dylan: I've been playing drums since I was 8 years old, instruments and music were always in my household growing up, and as soon as I was old enough to hit the road on my first tour with my first band, I was hooked. Fast forward 20 years later, with so many experiences, and failures, and growing up, I really wanted to become an artist myself, not depending on anyone else. 
What I love most about the electronic world is that your music is only limited by your creativity, you can create new sounds from scratch, edit things in a way no one has ever heard them before, and that unexplored universe is where I wanted to bring my drumming, piano, guitar, percussion, and vocalists to keep expanding the boundaries. Sometimes (maybe a lot of times) "EDM" and its DJs get a bad reputation for being button pushers and my goal is to create credibility and bring musicianship playing REAL instruments in a world ruled by a computer. That juxtaposition turns me on! 
Where do you see your sound moving towards in the future?
I want the future rock sound to be brought to the festival stages in the way The Chainsmokers or San Holo are making it happen! Both are bringing drums and real guitar to their DJ sets and it's super inspiring. My goal is to have a drum set, piano, guitar, maybe even other musicians, with visuals in comparison to Prydz's crazy work. I absolutely love the production side of a show and when you incorporate something visual like a drum throwing his sticks in the air, I feel like I can really raise the bar even higher for a new experience. I mean I grew up going to see KISS at Jones Beach in New York, I would be lying if I said I wasn't inspired by all the glam and shock value of putting on a memorable show.
We heard you make most of your tracks in your underwear. Truth? 
[Laughs] No, not necessarily in my underwear but I do have some badass Deadpool pajama pants. Also, some sweet grandpa slippers so I'm always comfortable. I have three dogs constantly around me, fighting for my attention while I'm trying to write a piano part or edit vocals so that can be distracting, and also helpful when I get stuck on something. I take a break and wrestle them, then come back to the computer. Complete dog therapy [laughs]. My first song "Frankenstein" was named after my Akita when he was in trouble tearing up his dog bed, the lyric was "lose your mind, like you're Frankenstein".
What was your inspiration for this track/video in particular?
"Cinderella Man" definitely has a lot of symbolism and meaning for my musician journey thus far. The traveling through the woods is my attempts at other failed projects, bands or relationships. The white performance room is like the "Cinderella" phase of being in the dress, I get a taste of the things I've always wanted and how amazing it can be. You search your whole life for that one opportunity (the door in the forest), that takes you to the place you've always wanted to go. So that's the video vibe I had in mind, even before I had the track finished. 
Musically, it is one my first tracks that fully incorporate the rock guitar as the hook lead, full drum set vibe in the verses, a lot of piano, just in total what a band would do in the electronic scene. For me, it's a huge starting point with this sound and even with the new songs I'm working on, I'm discovering things that work even better, but still making it sound and feel great in a club setting. I really want to bridge that gap and not just be a musician lost in the wrong genre, but sculpt my abilities into the DJ world with pressing as little buttons as possible!
You can follow Dylan here: