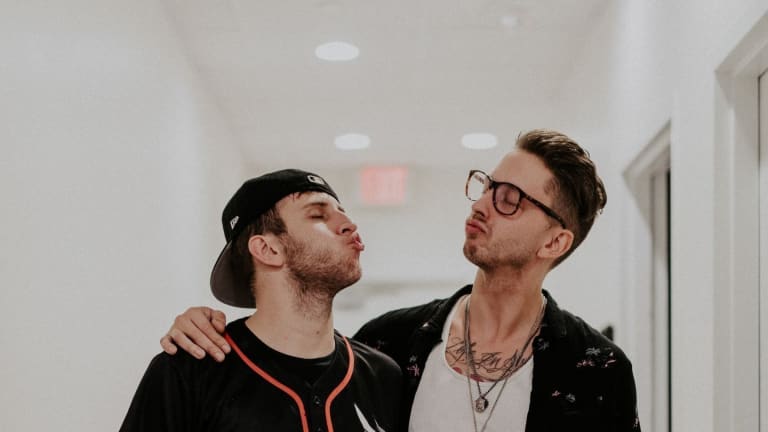 Ekali and Illenium Want You to Know it's "Hard To Say Goodbye" ft. Chloe Angelides
This is the fourth single of Ekali's forthcoming album
Fans of Ekali and Illenium have been waiting for this day since the two producers teased a collaboration this past spring. Well fans, the wait is over. "Hard To Say Goodbye" is officially out on Big Beat Records and is the fourth single from Ekali's forthcoming album. When two of the more emotionally driven producers on the circuit team up, a dreamy single is the outcome. 
Those who attended either Ekali's EDC Las Vegas 2019 set or shows on Illenium's Ascend Tour have witnessed this track live. Featured at the forefront of the single is Chloe Angelides' beautiful vocals. The successful singer/songwriter wrote the sad, empathizing lyrics for the track. The production reflects the synergy of both artists' ethereal bass work. They have championed emotive beat-making, creating pieces that know exactly how to tug at the listeners' heartstrings. 
For Ekali (real name Nathan Shaw), "Hard To Say Goodbye" follows his successful single "Back To You" ft. singer/songwriter Kiiara. The track debuted at #1 on the iTunes Electronic chart just last month. His forthcoming album will include the previously mentioned tracks along with collaborations with Nitti Gritti, Wafia, Au/Ra, and more. The Canadian producer announced via Twitter that the album will be called A World Away. He will be heading off to tour the album all across North America beginning early 2020. 
Illenium (real name Nick Miller) has made 2019 one of his most successful years yet. If having sold-out shows at both the legendary Madison Square Garden and Red Rocks Amphitheatre wasn't enough, his latest album Ascend reached #1 on Billboard's Dance/Electronic Album chart. He also took home his second gold record for "Good Things Fall Apart" featuring Jon Bellion. The Denver native is definitely one to keep an eye out for next year. 
Stream Ekali and Illenium's "Hard To Say Goodbye" featuring Chloe Angelides here. Purchase tickets for Ekali's "A World Away" tour here. 
A WORLD AWAY TOUR DATES:
| Date | City | State | Venue |
| --- | --- | --- | --- |
| 02/06/2020 | Seattle | WA | Showbox SoDo |
| 02/07/2020 | Seattle | WA | Showbox SoDo |
| 02/08/2020 | Vancouver | BC | Commodore Ballroom |
| 02/12/2020 | Arcata | CA | Arcata Theater |
| 02/13/2020 | Sacramento | CA | Ace of Spades |
| 02/14/2020 | Los Angeles | CA | Shrine Expo Hall |
| 02/19/2020 | Salt Lake City | UT | Soundwell |
| 02/22/2020 | Phoenix | AZ | The Van Buren |
| 02/27/2020 | Kansas City | MO | recordBar |
| 02/28/2020 | Madison | WI | Liquid Nightclub |
| 02/29/2020 | Minneapolis | MN | Skyway Theater |
| 03/5/2020 | Detroit | MI | Majestic Theater |
| 03/6/2020 | Pittsburgh | PA | Rex Theater |
| 03/7/2020 | Syracuse | NY | Westcott Theater |
| 03/12/2020 | Boston | MA | Royale |
| 03/13/2020 | New York | NY | Webster Hall |
| 03/14/2020 | Washington  | DC | Echostage |
| 03/20/2020 | Chicago | IL | Concord Music Hall |
FOLLOW EKALI:
Facebook: facebook.com/ekalimusic
Instagram: instagram.com/ekalimusic
Twitter: twitter.com/EkaliMusic
Soundcloud: soundcloud.com/ekalimusic
FOLLOW ILLENIUM:
Facebook: facebook.com/ILLENIUM
Twitter: twitter.com/ILLENIUMMUSIC
Instagram: instagram.com/illeniummusic
SoundCloud: soundcloud.com/illeniumofficial
FOLLOW CHLOE ANGELIDES:
Facebook: facebook.com/chloeangelides
Twitter: twitter.com/chloeangelides
Instagram: instagram.com/chloeangelides