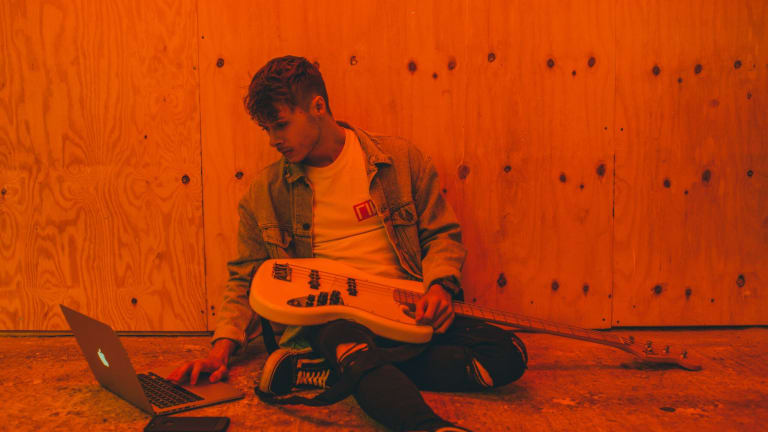 Ellis Drops Groovy Space-Funk Song "Moon Funk" via CloudKid Records
Journey into space with this futuristic electro funk track from Ellis on CloudKid Records.
Not many young artists explode onto the scene with as much force as 20-year-old DJ and producer Ellis. The London-based producer quickly made a name for himself after his viral remix of Ed Sheeran's "Shape of You" remix, which has since accumulated over 60 million streams. Ellis is back, this time on CloudKid, to take us to the cosmos with his new addictive single "Moon Funk."
"Moon Funk" is a fresh, upbeat track that layers multiple textures to create an overall space-like ambiance that meshes beautifully with Ellis' "signature funky sound."
Ellis first recalls having the idea for "Moon Funk" years ago. "When I listened back to it, I really got the vibe of space and astronomy," said the young producer. "The track is super futuristic and melodically quite mysterious, almost like going on a mission to Mars in the next 20 years, and not knowing what you're going to find on the planet."
Before making electronic music production his priority in 2016, Ellis played the bass guitar in a band. His musical background and focus on the bass-driven elements of music can be heard throughout his tracks, as well as seen across his social media accounts, where he posts bass covers to popular EDM songs.  
His unique and focused production style has taken him across European stages like Amerstdam Dance Event in the Netherlands and the 02 Academy in Leeds. With the backing of some of the most standout producers in the EDM scene such as San Holo, Lost Frequencies, and Zedd, it appears that Ellis is carving out a permanent spot for himself in the music industry. 
Ellis will make his next appearance at London's Ministry of Sound Club on July 6th, celebrating 20 years of Spinnin' Records. Visit the event page for more information. 
Stream or Download "Moon Funk" by Ellis, out now on CloudKid Records.
FOLLOW ELLIS:
Facebook: facebook.com/EllisOfficial
Twitter: twitter.com/ellisofficial
Instagram: instagram.com/ellisofficial
SoundCloud: soundcloud.com/ellisofficial
FOLLOW CLOUDKID:
Facebook: facebook.com/cldkid
Twitter: twitter.com/cloudkidmusic
Instagram: instagram.com/cloudkid
SoundCloud: soundcloud.com/cloudkid