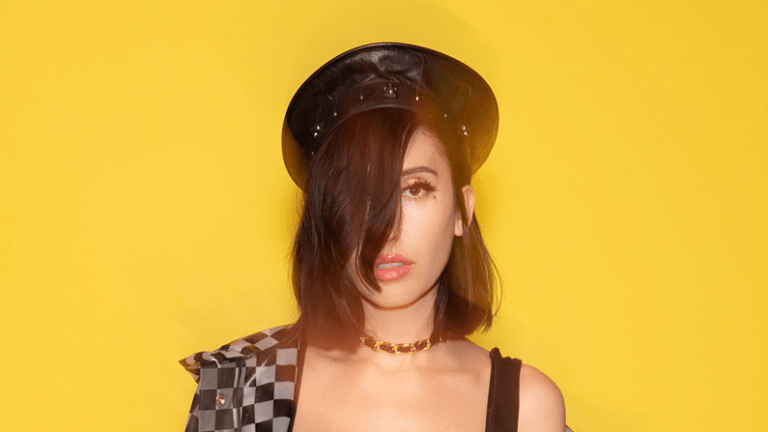 Elohim Releases Music Video for Skrillex Co-Produced "Buckets"
The video depicts a group of girls from Copenhagen and the angst of Danish youth.
Los Angeles singer/songwriter/producer Elohim is back with the official video for "Buckets," out now via OWSLA and co-produced by the legendary Skrillex. The track is the second in a pair of singles Elohim has released on the label, the first being "Connect" which came out this past November.
The dark trap track is a new sound for Elohim. It is a rowdy anthem to rage sing your heart out to. The dark, distorted journey that the two producers laid out is depicted beautifully with the accompanying visuals. The chaos and angst bombard your senses as if we are watching an episode of Skins.  It's wonderfully atmospheric and distorted. It's hard not to hear the anguish behind Elohim's sultry vocals.   
On the topic of "Buckets," Elohim has said:
"Buckets" is an emotional purge for me and I hope the song can be that for the listener as well. This video was made in Copenhagen. It was different and really fun and exciting for me to let go and really trust putting it in the hands of the director and the beautiful girls acting in the video. Everything looks cooler in Europe, so I let them run with it, experiment and embrace the song."
The video's director Jonas Risvig added: 
"We wanted to find some unspoiled youth for this video. We had to go on the streets for days to scout for potential actors. We wound up with these four girls who all knew about the streets and the culture that we wanted to portray. Elohim has a crazy artistic vibe around her and we really wanted to push these girls into her visual universe. We had to give them time to learn each other's habits and let them develop a friendship in order to make them forget about the camera. Our talented DOP Jacob Møller didn't want the girls to acknowledge him at all, and therefore, I as a director - had to step in and pretend to be their friend in order to get the results we wanted. The whole video is shot around the fashionable neighborhood Nørrebro and Copenhagen where all of the girls grew up. Therefore they knew all the corners and streets. We just had to follow them around and let them act out their inner demons."
A classically-trained pianist and skilled songwriter, Elohim first turned heads in 2015 with debut singles "She Talks Too Much" and "Xanax," which together saw a release as a AA-side 12" via B3SCI Records. Elohim followed with a AA-side single via B3SCI this January featuring the exuberant "Bridge and the Wall" and elegantly emotive "Pigments," which was released with an interactive video.
On the live side, Elohim has announced a run of L.A./NYC intimate shows to take place this March. All three L.A. shows have already sold out. Elohim is also slated to play a run of 2019 festivals; all tour dates are listed below.

Elohim Tour Dates:
Feb 28 // Riviera Maya, Mexico @ Deja Voom
Mar 15 // Los Angeles, CA @ Hollywood Forever (Masonic Lodge) - SOLD OUT
Mar 16 // Los Angeles, CA @ Hollywood Forever (Masonic Lodge) - SOLD OUT
Mar 17 // Los Angeles, CA @ Hollywood Forever (Masonic Lodge) - SOLD OUT
Mar 30 // Brooklyn, NY @ Murmrr
May 17-19 // Gulf Shores, AL @ Hangout Festival
Jun 1 // New York, NY @ Governor's Ball
FOLLOW ELOHIM:
Facebook: facebook.com/elohimonline
Twitter: twitter.com/elohimmusic
Instagram: instagram.com/elohim
SoundCloud: soundcloud.com/elohimelohim
FOLLOW SKRILLEX:
Facebook: https://www.facebook.com/skrillex
Twitter: https://twitter.com/Skrillex
Instagram: https://www.instagram.com/skrillex
SoundCloud: https://soundcloud.com/skrillex