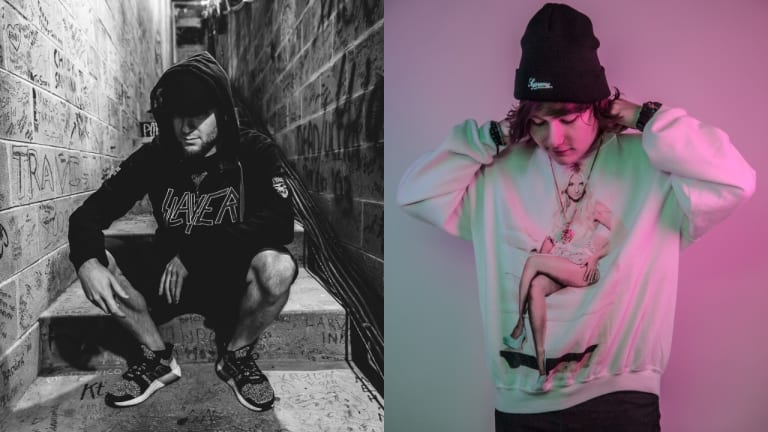 Excision and Dion Timmer Unleash the Fury with "Bones" Ahead of Their EP Release  [PREMIERE]
Excision and Dion Timmer share their latest single "Bones" one day before its release.
With just under 100 days to go until the dubstep world migrates to Lost Lands, Excision and Dion Timmer are gearing up to release a joint EP to help prepare listeners for the ensuing chaos. Ahead of Friday's Breaking Through EP release, the minds behind the madness were kind enough to share their newest single "Bones," one day early. 
If you're even remotely familiar with Excision (real name Jeff Abel) or Dion Timmer, you'll immediately recognize the duo's special blend of overwhelming bass and infectious vocals. The raw power that comes from their sound design has continued to delight fans - while simultaneously creating the need for increased appointments to their local chiropractor.
Even though the two artists began working together when Dion Timmer wasn't even old enough to drive, over the past couple of years, the one-two punch from Abel and Timmer has created some of bass music's instant classics. Tracks like "Harambe," "Africa," and "Home" have become mainstays on the biggest bass stages across the world and show no sign of slowing down.  
This summer and fall, Dion Timmer will join Excision at both of the later's festivals, Bass Canyon and Lost Lands, taking place in Washington and Ohio respectively.
Breaking Through by Excision and Dion Timmer will be released June 21st. You can pre-save the EP here.
FOLLOW EXCISION:
Facebook: facebook.com/Excision/
Instagram: instagram.com/excisionofficial/
SoundCloud: soundcloud.com/excision
Twitter: twitter.com/Excision
Spotify: https://open.spotify.com/artist/5FKchcZpQOkqFvXBj1aCvb
FOLLOW DION TIMMER:
Facebook: facebook.com/diontimmermusic
Twitter: twitter.com/diontimmermusic
Instagram: instagram.com/dion_timmer/
SoundCloud: soundcloud.com/diontimmer
Spotify: https://open.spotify.com/artist/06VibSJEr3GLxLBBZhRums