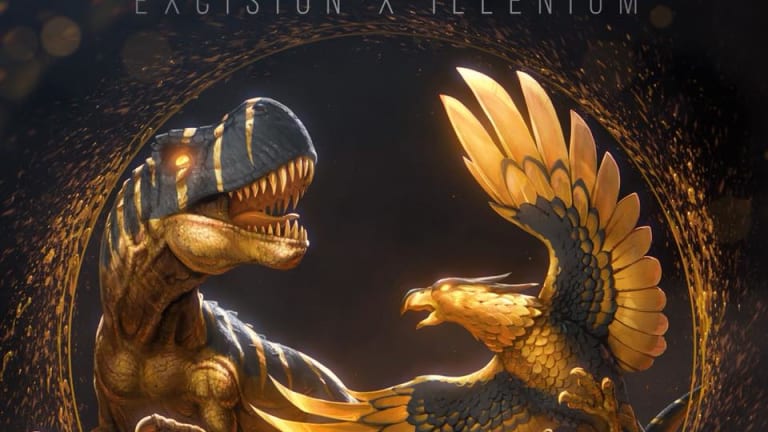 Excision and Illenium Release Hard-Hitting Collaboration "Gold (Stupid Love)"
This new track featuring Shallows is the perfect mixture of beautiful vocals and head-bang worthy bass.
Hailing from Canada, DJ and producer Excision is widely known for the heavy dubstep and debilitating bass that take over his tracks.  His live shows are an experience of their own, gaining so much momentum with their massive visuals and sound design that he has been able to start a few festivals himself.  Lost Lands returns this year in September, and Bass Canyon will debut this August in Washington.
Colorado-based DJ and producer Illenium has been nothing but busy this summer.  Amidst seemingly nonstop festival appearances around the globe, he has managed to produce various collaborations with artists including Kill The Noise and 1788-L.  This diverse producer is comfortable with any sub-genre of electronic music, touching on melodic dubstep, future bass, hardstyle, and more.
After teasing their collaboration for months with short previews on social media, Excision and Illenium have finally released "Gold (Stupid Love)".  This track starts off with slow, deep vocals from Shallows backed by a soft melody produced by a guitar.  Gradually, bass, percussion, and then synths are added in as the tempo picks up, showcasing Illenium's dreamy signature sound.  Each drop in the song brings Excision's heavier, dirty sound to life, complete with vocal chops.  Even the vocals are extremely relatable.
Is it stupid that I love you?

Was it all a big mistake?

Do I wanna let it happen?

Do you wanna just walk away?
This track does an amazing job of blending Excision and Illenium's sounds, but maybe the long wait made it that much better.  If you haven't been lucky enough to see it performed live at a festival yet, you can check out the video from Illenium's set at EDC this year and (finally) hear the track in full below.