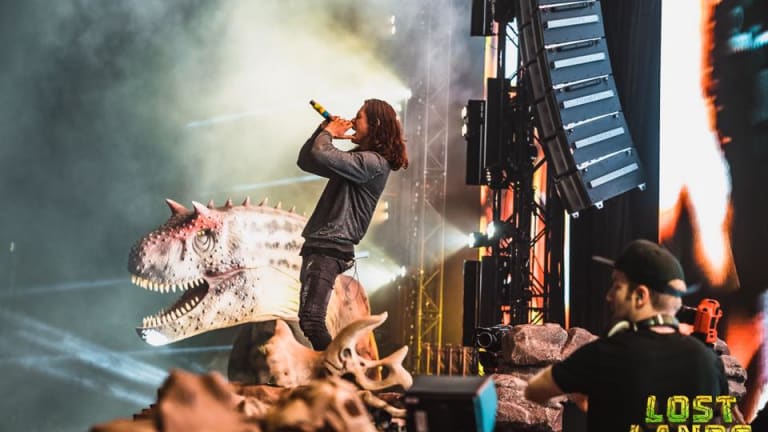 Excision and Sullivan King Release "Apex: Re Rocked" Featuring Metal and Acoustic Remixes
Excision and Sullivan King go back to their roots with metal and acoustic covers of "Wake Up" and "Gold."
Excision and Sullivan King went back to their roots with the release of the re-rocked versions of their track "Wake Up" and the Illenium collaboration, "Gold." Released under the name Apex: Re Rocked, both tracks are available now on SoundCloud. 
The acoustic cover of "Wake Up" shows the two dubstep giants in rare form. Due to the nature of the cover, there's no overwhelming bass or guitar as fans of the duo are used to, but rather, the emphasis is put on Sullivan King's (real name Keaton Prescott) vocal offerings. 
The second of the two remixes turns things up quite a bit. Prescott's cover of "Gold" features pounding guitar chords over his energetic metal vocals. Seemingly designed for fans of both genres, the cover is the perfect creation for those who got into bass music via heavy metal.
Both artists are slated to perform at each of Excision's (real name Jeff Abel) festivals this summer. The first of the two festivals, Bass Canyon, takes place August 23rd-25th at The Gorge Amphitheatre in George, Washington while the second of the pair, Lost Lands, takes place September 27th-29th at Legend Valley in Thornville, Ohio.
FOLLOW EXCISION:
Facebook: facebook.com/Excision/
Instagram: instagram.com/excisionofficial/
Twitter: twitter.com/Excision
SoundCloud: soundcloud.com/excision
FOLLOW SULLIVAN KING:
SoundCloud: soundcloud.com/sullivankingmusic
Facebook: facebook.com/SullivanKingMusic
Twitter: twitter.com/SullivanKing
Instagram: instagram.com/SullivanKing