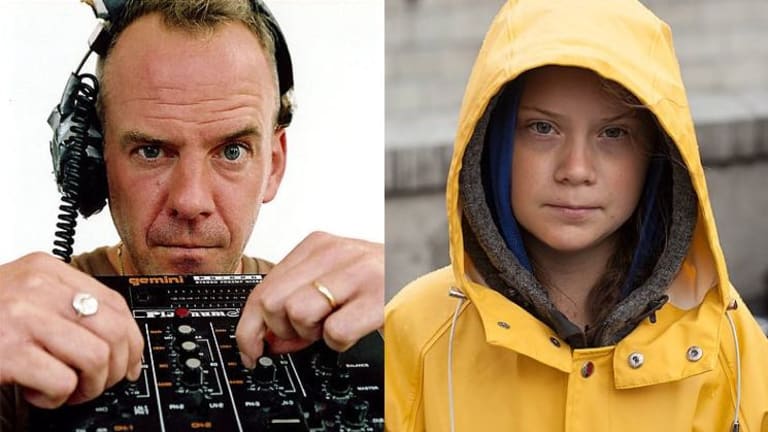 Fatboy Slim Pays Tribute To Greta Thunberg Through "Right Here, Right Now" Mashup
The iconic producer mixed in the climate activist's UN speech with his club anthem.
During his performance in Gateshead, England this past weekend, the legendary producer Fatboy Slim (real name Norman Cook) decided to spread a message on climate change. He did so by paying tribute to Greta Thunberg - the young climate change activist who has made headlines around the globe after a powerful speech she made to the United Nations during the Climate Summit went viral. The British producer sampled said speech and mixed it into his legendary track "Right Here, Right Now."
The 16-year-old is heard delivering her moving words to the world leaders as synths boom in the background. "We will not let you get away with this," Thunberg can be heard saying. "Right here, right now is where we draw the line. The world is waking up. And change is coming, whether you like it or not."
Cook seamlessly loops her chanting of "Right here, right now" over the original sample of Angela Basset as the crowd goes wild. The track was first shared by the musician David Scott from The Kiffness on social media late this September. He set the mashup to images of Thunberg, melting ice caps, President Donald Trump, and the Earth. After Cook praised and reposted the mashup on his Facebook, he has now begun incorporating it into his live performances.   
Cook has been making iconic club tracks since the '90s and continues to tour to this day, selling out shows around the world. Last year he released his Fatboy Slim vs Australia EP while going on his tour down under. 
H/T: The Guardian
FOLLOW FATBOY SLIM:
Facebook: facebook.com/fatboyslim
Twitter: twitter.com/fatboyslim
Instagram: instagram.com/officialfatboyslim