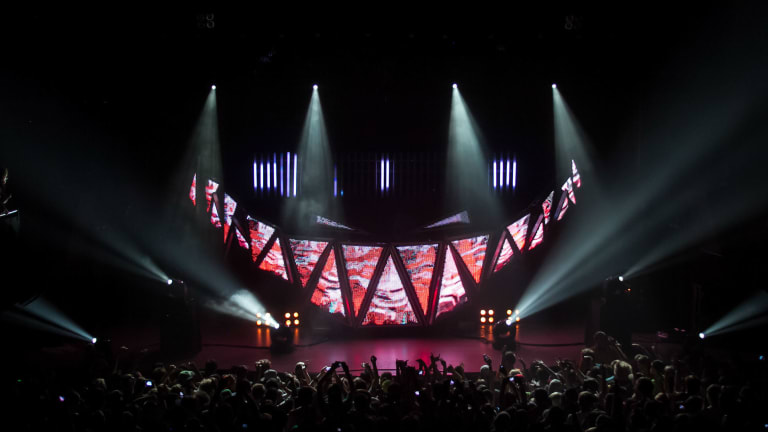 Feed Me Announces Release of New Studio Album, High Street Creeps
Album pre-save launches Feb. 8th with Feed Me's new track, "Feel Love."
British producer and artist Feed Me (real name Jon Gooch) has been laying low in recent years - that is, until last month when he teased an album release with no official date. Today, the little green monster behind the man known as one of the greats in the electronic genre returns to mau5trap with his unique brand of hard-hitting, bass-heavy electronica for the release of a new full-length studio album, High Street Creeps. 
The album is set for release on February 22nd. It will be available for pre-save alongside a new single titled "Feel Love" on February 8th, followed by second single called "Sleepless" on February 15th.
High Street Creeps will feature 10 tracks which span a variety of styles so fans should expect some new sounds from the seasoned producer. From "Feel Love," which features the angelic voice of Rosie Doonan (who has performed with the likes of Peter Gabriel and Birdy), to "Sleepless," which was almost entirely produced from a Eurorack modular, listeners can expect the unexpected from Gooch.
Addressing the long gap of time between albums, Gooch states:
"I'd amassed a lot of material since my last album, but it took a long time for me to feel like it was the right time to do another. My life had changed a lot since I'd been through a lot of experiences and it felt overwhelming to try and condense a sprawling mass of feelings and ideas into a new story."
High Street Creeps - a namesake taken from the notorious 1980s Hertfordshire pheasant poaching ring - marks Gooch's second full studio album, following his 2013 debut Calamari Tuesday. Following up his debut with a string of Feed Me singles and EPs, as well as the inaugural album for his alias Spor in 2015, High Street Creeps marks the producer's sophomore full-length effort. This album will also be Feed Me's ninth overall release on mau5trap.
Look for Feed Me to appear at Beyond Wonderland March 22nd & 23rd in Southern California and pre-save "Feel Love" here.
FOLLOW FEED ME:
Soundcloud: https://soundcloud.com/feedme
Twitter: https://twitter.com/feedme
Instagram: https://www.instagram.com/feedme/