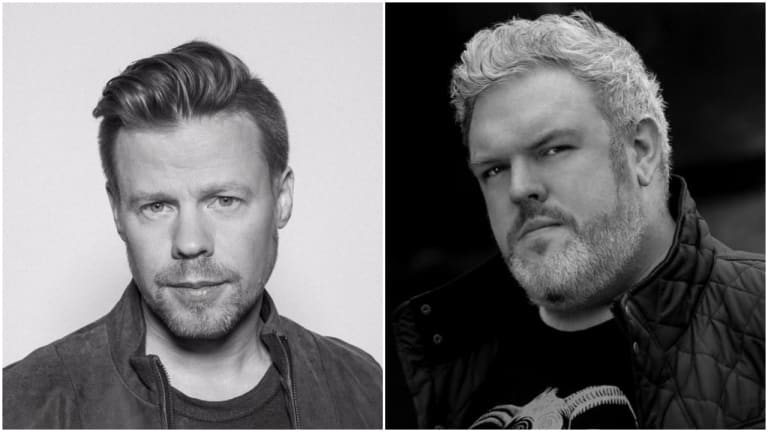 Ferry Corsten and Kristian Nairn Rework Trance Classic "Galaxia" [Premiere]
A trance legend teamed up with the "Rave Of Thrones" star on this true-to-form trance single.
In case anyone still questioned Kristian Nairn's EDM credentials, his latest collaboration should tell you everything you need to know. Trance superstar Ferry Corsten enlisted the Game of Thrones actor's help in reimagining his 1996 single, "Galaxia." It arrives by way of Corsten's Flashover Recordings imprint tomorrow, July 26th, but EDM.com is proud to premiere it exclusively today.
Some of what worked for the source material remains intact in Nairn and Corsten's rework, but they've updated it with current sound design methods and style. The warbling lead synths follow a slower tempo than those of the original, and the atmospheric effects at the breakdown are markedly more organic and crisp. By and large, the two producers did "Galaxia" justice while still delivering something fresh.
"'Galaxia' is one of the favorite tracks from my early days of clubbing," Nairn said. "Naturally, when I got the chance to work with Ferry on it, I jumped on it. I tried to keep the warm feel of the track and come at it with my own melodies."
"I never thought that 'Galaxia' would've had such a long span over the years when I first released it under Moonman but it still seems to resonate," Corsten added. "I'm very happy to see everyone still remembers the track and it feels great to bring Kristian on board to freshen it up."
Corsten has participated in numerous other high-profile collaborations as well - most recently with BT on "1997." Recently, he also made his film score debut by soundtracking David Gleeson's 2018 thriller Don't Go.
Although most know Nairn from his role as Hodor in the wildly popular HBO series Game of Thrones, he's no electronic music novice by any means. He's been a fixture of the Ireland scene for the last 20 years and remixed songs by the likes of the Freemasons, Madison Avenue and Duke. He's not trying to hide that his platform as an actor has afforded him a wider audience as a DJ/producer, either; he affectionately calls his headline events "Rave of Thrones."
Pre-save or pre-order "Galaxia" on Spotify and Apple Music here ahead of its official release tomorrow via Flashover Recordings.
FOLLOW FERRY CORSTEN:
Facebook: facebook.com/FerryCorsten
Twitter: twitter.com/FerryCorsten
Instagram: instagram.com/ferrycorsten/
SoundCloud: soundcloud.com/ferry-corsten
FOLLOW KRISTIAN NAIRN:
Facebook: facebook.com/kristiannairnofficial
Twitter: twitter.com/kristiannairn
Instagram: instagram.com/kristiannairn
SoundCloud: soundcloud.com/kristiannairn
Follow Flashover Recordings:
Facebook: facebook.com/flashoverrecordings
Twitter: twitter.com/FlashoverRec
Instagram: instagram.com/flashoverrecordings
SoundCloud: soundcloud.com/flashoverrecordings