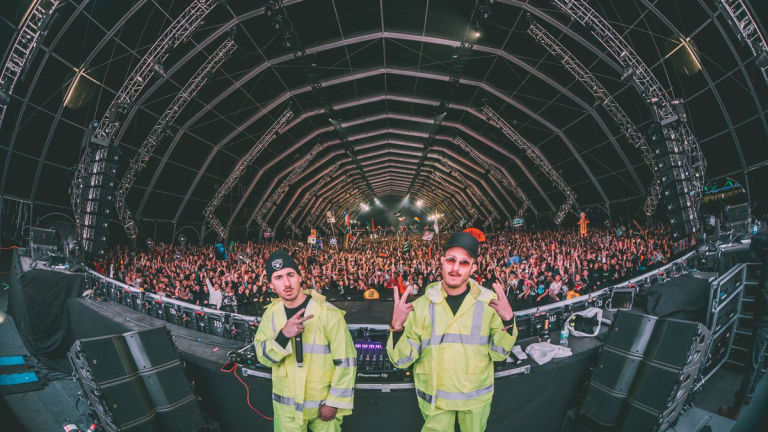 Flosstradamus and 4B Link Up for Trap Heater "Blackout"
Flosstradamus and 4B are back with a huge tune.
Flosstradamus (real name Curt Cameruci) and 4B (real name Bobby McKeon) have released their high-energy collaboration "Blackout."
"Blackout" is a heavy trap tune that fuses both Cameruci and McKeon's roots. Shortly after Cameruci's tagline, a snappy verse comes in prepping listeners for the "blackout." Things intensify, as the tune snaps into a wild, punchy trap drop. The second drop takes a slight turn, as the sharp synths abruptly turn to a Jersey club sound. Fans of both Cameruci and McKeon will be pleased with how this one turned out.
Cameruci has had a wildly successful career and continues to keep trap music thriving. Since the second half of Flosstradamus, Josh Young, departed to kick off his career as YehMe2, Cameruci has released a number of hit singles including "How You Gon' Do That" featuring Cara, "ID" with Boombox Cartel, and "Tern It Up" with Dillon Francis.
McKeon has been a force in the dance music scene, contributing as a major pioneer to the Jersey club style. The young talent made a name for himself with his breakout collaboration with Azaar, "Pop Dat." Since then, he's released his festival anthem "Whistle" with Teez as well as his singles "Ice Cold" and "Drown."
These two will be hitting the road together shortly on their Blackout Tour. Find tickets here.
Follow Flosstradamus:
Facebook: facebook.com/flosstradamus
Instagram: instagram.com/flosstradamus
Twitter: twitter.com/flosstradamus
SoundCloud: soundcloud.com/flosstradamus
Follow 4B:
Facebook: facebook.com/LIKE4B
Instagram: instagram.com/dj4b
Twitter: twitter.com/DJ4B
SoundCloud: soundcloud.com/dj4b