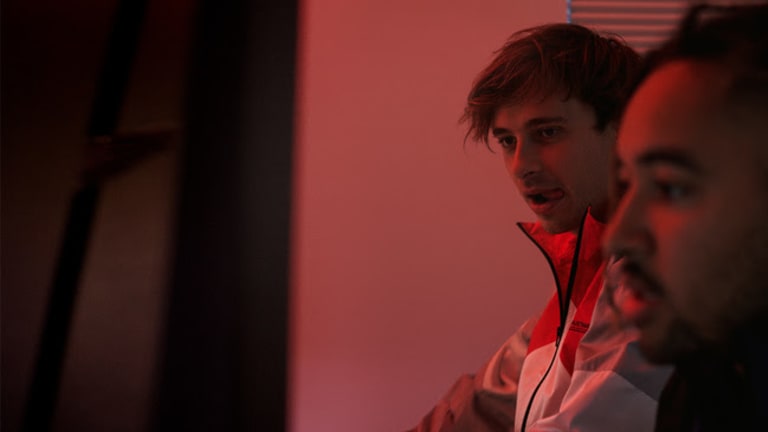 Flume and Reo Cragun Release Joint EP, Quits
The two friends are back with a three new tracks.
Fans were given just a day to hype themselves up for some new Flume. The Australian producer announced yesterday he would debut a joint EP with rising hip-hop artist Reo Cragun titled Quits. This morning Flume (real name Edward Harley Streten) and Cragun joined Zane Lowe on Beats 1 to premiere the lead single - and soon after the entire EP was released! It was previously reported in a press release that the EP was to be released on Friday, August 2nd. The early drop looks similar to when Knife Party was on air with Lowe and then their Lost Souls EP was released early. Coincidence?
Streten's collaboration with Cragun features the previously released single "Friends," the title track "Quits," and "Levitate." All three tracks highlight Cragun's distinct vocals as Streten's atmospheric and experimental soundscape takes the listener on a unique journey. The three-track EP is a clear sign these two were meant to work together. Both artists are changing the landscape, not willing to conform to one single sound. 
"Reo's got a great ability to adapt to whatever's going on musically," said Streten. "Whether it's something on the slower side or something high energy he's able to complement and engage with it in a way that's quite unique."
"Working with Flume is always amazing," said Cragun. "He does such a great job of getting whatever he hears inside of his brain written out. Around the start of us hanging out he had these crazy fast scooters that took us around his neighborhood during our session breaks. He was building his studio at the time so we would pop in over there and use our imaginations to construct what was to come. It was so inspiring. I'm really fortunate that we were able to become such great friends outside of the music. I have nothing but love for Harley!"
Streten has taken 2019 by storm since the release of the Hi This Is Flume mixtape. He followed that up with his collaboration with Cragun and then "Let You Know" featuring London Grammer. This three-track EP comes out right in time for Osheaga, Lollapalooza, two Flume & Friends shows at Red Rocks Amphitheatre, Outside Lands, and a long list of other locations around the globe. 
Find Flume's tour schedule and tickets here. 
FOLLOW FLUME:
Facebook: facebook.com/flumemusic
Instagram: instagram.com/flumemusic
Twitter: twitter.com/flumemusic
SoundCloud: soundcloud.com/flume
FOLLOW REO CRAGUN:
Facebook: facebook.com/ReoCragunMusic
Twitter: twitter.com/ReoCragun
Instagram: instagram.com/reocragun