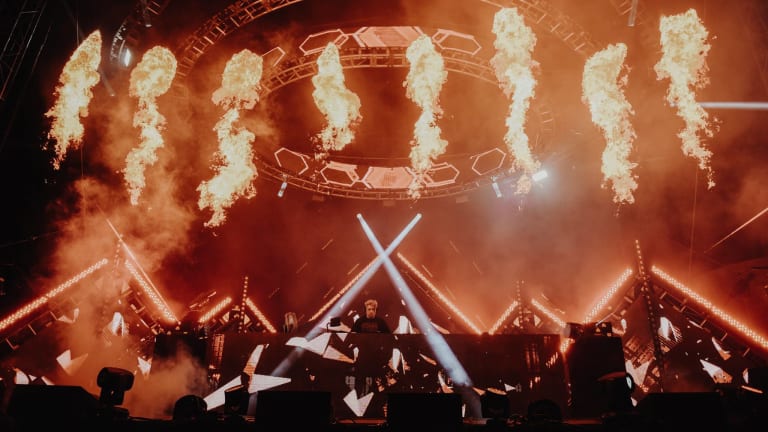 Bass Legend Flux Pavilion Returns to Circus Records and Enters the "Lion's Cage"
Flux Pavilion has shifted gears for a silky-smooth, melodic record accompanied by L.A. vocal collective Nevve.
Performing since 2008, U.K.-based singer, songwriter, DJ, and producer Flux Pavilion (real name Joshua Steele) earned his stripes with a series of dubstep smash hits. Among them were the instantly recognizable "Bass Cannon," the iconic single "I Can't Stop," as well as his massive, genre-defining remixes of DJ Fresh's "Gold Dust" and Freestylers' "Cracks."
A true legend of dance music and a longtime staple in DJ sets around the world, Flux Pavilion has returned to the fore with the silky-smooth and beautifully melodic new single, "Lion's Cage" featuring the fresh and mysterious Los Angeles vocal collective Nevve. An airy and melodic masterpiece, "Lion's Cage" is the first glimpse we're getting of the new body of work that Flux has been cooking up behind the scenes. We can't wait to hear more from the Circus Records label boss.
Stream or Download "Lion's Cage" today, and make sure to catch Flux Pavilion on his upcoming North American tour commemorating 10 years of Circus Records.
FOLLOW FLUX PAVILION:
Website: fluxpavilion.com
Facebook: facebook.com/fluxpavilion
Instagram: instagram.com/Fluxpavilion
Twitter: twitter.com/Fluxpavilion
Soundcloud: soundcloud.com/flux-pavilion
FOLLOW NEVVE:
Facebook: soundcloud.com/nevvemusic
FOLLOW CIRCUS RECORDS
Facebook: facebook.com/circusrecords
Twitter: twitter.com/circus_records
SoundCloud: soundcloud.com/circusrecords
Instagram: instagram.com/circusrecords