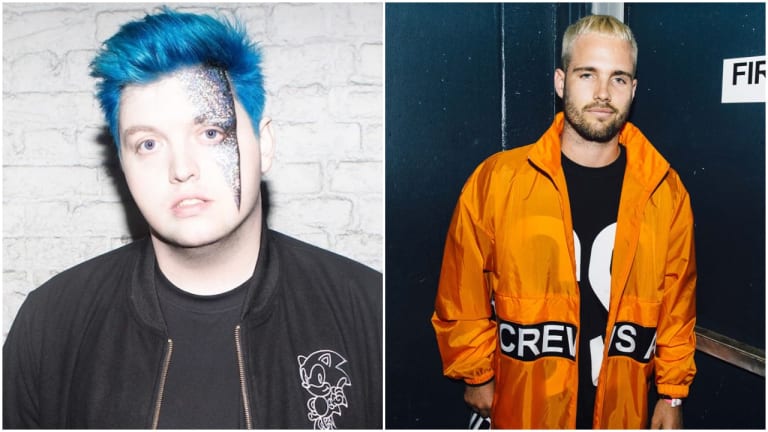 Flux Pavilion and What So Not Link Up with The Chain Gang of 1974 for "20:25"
This one's dreamy.
Flux Pavilion (real name Joshua Steele) and What So Not (real name Chris Emerson) have enlisted the help of The Chain Gang of 1974 (real name Kamtin Mohager) for their monster collab "20:25," out via Circus Records.
Steele and Emerson have cooked up a nice surprise for fans, as "20:25" maintains a relaxed, chill vibe throughout. Soft synths flutter across the bass line as Mohager's iconic vocals relay pondering messages of the afterlife and loneliness. While this isn't the wild tune most fans would expect, Steele and Emerson have masterfully fused their easily identifiable sounds to craft something listeners won't be able to get enough of.
Steele has been a mainstay in the dance music scene since his hit "I Can't Stop" infected the airwaves in 2010. The Circus Records label head has released a massive amount of successful singles since, including "Emotional" with Matthew Koma, "Room To Fall" with Marshmello and Elohim, "Party Starter" with Eliminate, "Catch Me" with Yellow Claw and Naaz, and "International Anthem" with Doktor.
Emerson has become a fan favorite since topping the trap charts with RL Grime on "Tell Me." Both his Gemini and Divide and Conquer EP's were incredibly well-received, leading to the release of his debut album Not All The Beautiful Things which featured collaborations with Skrillex, San Holo, SLUMBERJACK, Dyro, and many more. He recently collaborated with Diablo on their drum and bass tune "OOGAHDAM!"
FOLLOW FLUX PAVILION:
Facebook: facebook.com/fluxpavilion
Instagram: instagram.com/Fluxpavilion
Twitter: twitter.com/Fluxpavilion
Soundcloud: soundcloud.com/flux-pavilion
FOLLOW WHAT SO NOT:
Facebook: facebook.com/whatsonot
Instagram: instagram.com/whatsonot/
Twitter: twitter.com/whatsonot
Soundcloud: soundcloud.com/whatsonot