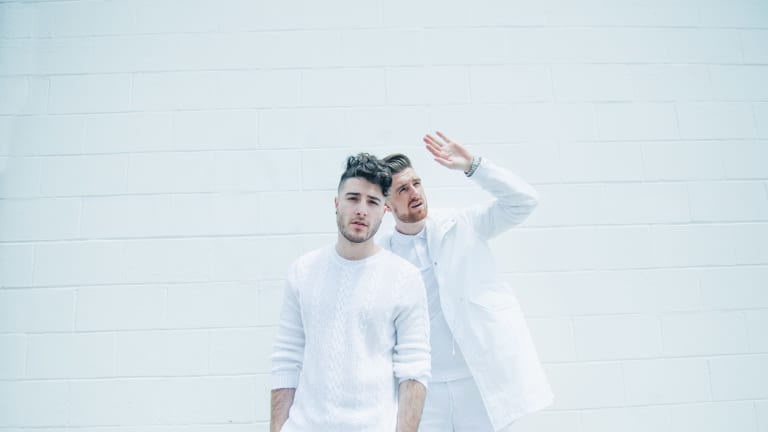 Fly By Midnight and MOTi Drop Retro-Pop Single "Spark"
This upbeat, high-energy track is sure to light up your end-of-summer playlist.
New York-based duo Fly By Midnight, is made up of singer/songwriter Justin Bryte and producer/songwriter Slavo. These two have been releasing original pop anthems like "Vibe" and "Just Say It" along with catchy covers for a few years now.
Their high-energy hits have been brought to massive festival stages including those at Firefly Music Festival and Panorama Music Festival as well as various colleges along the East Coast. With over 20 million views on their YouTube channel, Fly By Midnight has been gaining some serious traction.
This time around, they've joined forces with MOTi, a Dutch electro house DJ and producer. Known to family and friends as Timotheus "Timo" Romme, this DJ can be recognized by some of his most popular tracks including "Hooked" with Sheezan and "Up All Night" with R3hab and Fiora. Romme has touched down in Europe, North America, China, Taiwan, and more for shows in the last few years alone.
The sounds of Fly By Midnight and MOTi blend together perfectly in their latest release, "Spark." Kicking off with Bryte's vocals that will have listeners reminiscing of retro-pop, the track slowly fills with light percussion and soft guitar elements. As the tempo picks up during the chorus, the track gains more and more depth through the addition of synths and more percussion. A funky electro-house drop follows before slowing down for the verse and starting all over again.
According to a message from Bryte, this track was initially meant to capture the sound and feel of One Republic until developing into what it is now after working with Romme. Furthermore, their approach to these lyrics was one of the most poetic that they've done.
Fly By Midnight currently has two shows coming up, one being in Brooklyn and one in Los Angeles. MOTi also has a handful coming up which are all in Europe.
Stream "Spark" here and check out both artists below for more music.
FOLLOW FLY BY MIDNIGHT:
Facebook: facebook.com/FlyByMidnightMusic
Twitter: twitter.com/flybymidnight
Instagram: instagram.com/flybymidnight
Soundcloud: soundcloud.com/flybymidnight
FOLLOW MOTi:
Facebook: facebook.com/motiofficial
Twitter: twitter.com/motiofficial
Instagram: instagram.com/motiofficial
Soundcloud: soundcloud.com/motiofficial