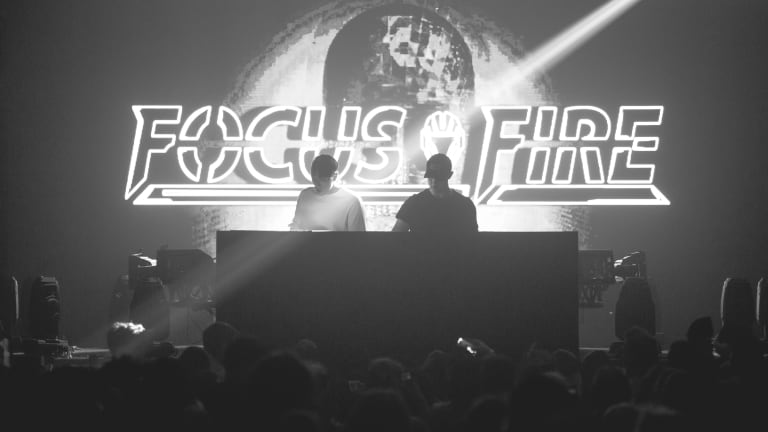 Focus Fire and Similar Outskirts Unleash Video Game-Inspired "Dimensions" [Premiere]
Focus Fire and Similar Outskirts' collaboration "Dimensions" is out now.
L.A. duo Focus Fire and their dubstep producer peer Similar Outskirts have unleashed a new collaboration titled "Dimensions." Featuring arpeggiated 8-bit sounds and soaring melodic leads, it's a worthwhile addition to the flourishing melodic dubstep subgenre. 
While many who know Focus Fire identify them by the aggressive bass sounds that characterized their early work, the duo wasn't afraid to shake things up on "Dimensions." 
"While most of our fans know us for the heavier music we've made...we are still passionately committed to making melodies the focal point of our songs," the duo said in a joint statement. "Our collaborator, Similar Outskirts, combined his production expertise with ours to make 'Dimensions' a record that could rock main stage EDC, as well as score the new Final Fantasy."
With a concerted effort on branding and aesthetics, Focus Fire have positioned themselves as a duo for the golden age of gaming. Their music has frequently been accompanied by CGI videos featuring various cyberpunk themes and the duo's virtual robot named GAR-E. 
While many developing artists struggle with branding, Focus Fire have continued to target an increasingly loyal audience who are invested in the episodic nature of their story. While they may not have many releases, each installment feels distinct and purposeful in shaping their multimedia universe.
Check out the teaser video for Focus Fire's latest chapter with Similar Outskirts, "Dimensions," and stream the single here.
FOLLOW FOCUS FIRE:
Facebook: https://www.facebook.com/focusfiremusic
Twitter: https://twitter.com/focusfiremusic
Instagram: https://www.instagram.com/focusfiremusic/
SoundCloud: https://soundcloud.com/focusfiremusic
FOLLOW SIMILAR OUTSKIRTS:
Facebook: https://www.facebook.com/SimilarOutskirtsEDM/
Twitter: https://twitter.com/sim_out_
Instagram: https://www.instagram.com/similaroutskirts
SoundCloud: https://soundcloud.com/similar-outskirts