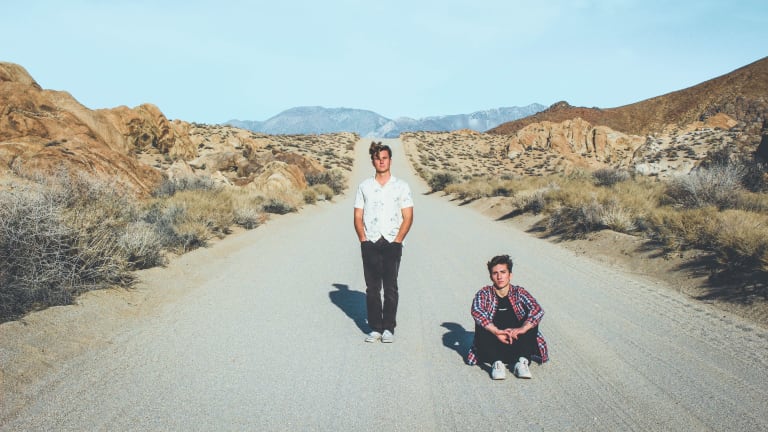 Forester Break New Ground with Debut Concept Album, Kerosene
The electronic indie-folk duo shared their 9-track effort about lost love, finding passion, and the healing properties of nature - out now on Lowly.
What do you have when chaotic city life meets the serene nature of the great outdoors? Xander Carlson and David Parris - better known as the electronic-laced, indie-folk duo Forester - would be the answer. Today, the duo shared their introspective debut concept album, Kerosene, out now on Lowly.
Coming fresh onto the radar only five months ago with their Trail Mix 001 on Soundcloud, the duo have grabbed the attention of thousands already with their unique, deeply personal style. Before premiering their sound, the two first met at a high school party at 16. Quickly they found a mutual interest in electronic music, as well as a distaste for overly polished, shallow city life in west L.A. The two have been working together as a team to make authentic and emotive songs ever since. Together, they discovered that nature was the greatest escape from the fake, distracted lifestyles in the city, specifically enjoying spending time in the Sierra Mountains and the Pacific Ocean.
Their sound is inspired by both parts of these worlds; synthetically-produced sounds of the hectic urban city life, and the organically harvested elements of nature. Interweaving introspective lyrics into the mix, Kerosene was the result. 
"We wrote the album when we were both on summer break from college," said Parris. "Xander was living in the bitter cold in Providence, Rhode Island, while I was in the small town of Chico. We were hungry for the warm, open spaces of the Southern California mountain ranges where we grew up. The clash between city and nature was a prominent theme in our lives at the time and is the main source of inspiration for this album."
The album features nine tracks, two of which include features from singer/songwriter Madeline. Centered around sensitive, spiritual themes about love, finding passion, and the healing properties of nature, Kerosene invites listeners to reflect on themselves. The title track especially focuses on this theme, encapsulating a metaphor for burning the past to renew the present. 
Stream or download Forester's Kerosene LP, out now on Lowly. 
FOLLOW FORESTER:
Facebook: facebook.com/upintheforest
Twitter: twitter.com/upintheforest
Instagram: instagram.com/forestermusic
SoundCloud: soundcloud.com/forester-family
FOLLOW LOWLY.:
Facebook: facebook.com/lowlypalace
Twitter: twitter.com/lowlypalace
Instagram: instagram.com/lowly
SoundCloud: soundcloud.com/lowlypalce