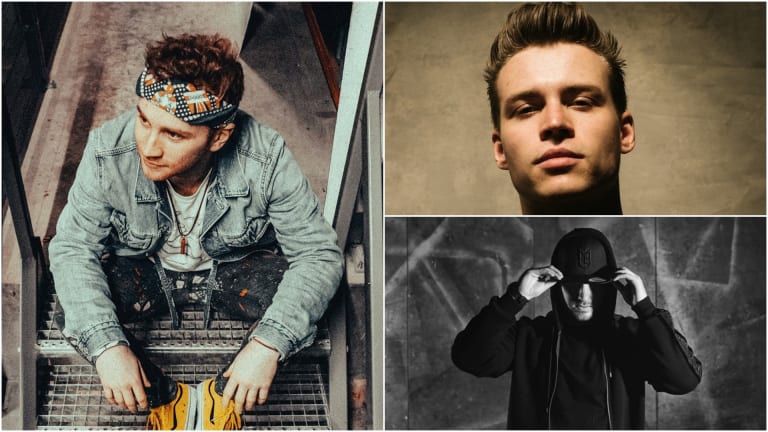 Fox Stevenson's "Bruises" Gets Remixed by Curbi & Macky Gee
The two new remixes are out on Pilot Records.
Last year, production wizard Fox Stevenson dropped his wild hit single "Bruises," an energetic and fun drum and bass anthem. Now, it's getting the remix treatment from rising star Curbi and jump-up king Macky Gee on Bruises Revisited.
Curbi brings the tempo down to deliver a groovy and bass-infused house remix. The breakdowns pitch Fox's vocals down to flow into a powerful buildup, and the payoff at the drop is extremely shuffle worthy. Elements of UK garage lend a great underground vibe to the tune, but Curbi's effort is very suitable for a mainstream bass house DJ set as well. 
Macky Gee's remix retains the drum and bass roots of the original, but brings a wicked jump-up vibe that pumps the energy of the tune up to eleven. This one will be a hit with the old school crowd and new heads alike, remaining extremely consistent with the signature Macky Gee sound while adding some festival flavor.
The Bruises Revisited remix package adds to a diverse catalog from Pilot Records, whose past releases include offerings from Bert H., Xilent & Chime, and Ownglow. 
Bruises Revisited is out now and can be found here. 
FOLLOW CURBI:
Facebook: facebook.com/CurbiOfficial
Twitter: twitter.com/CurbiOfficial
Instagram: instagram.com/curbi
SoundCloud: soundcloud.com/curbiofficial
FOLLOW MACKY GEE: 
Facebook: facebook.com/macky.gee.3
Twitter: twitter.com/MackyGee
Instagram: instagram.com/mackygeeofficial
SoundCloud: soundcloud.com/mackygee
FOLLOW FOX STEVENSON:
Facebook: facebook.com/FoxStevensonMusic
Twitter: twitter.com/FoxStevensonNow
Instagram: instagram.com/foxstevenson
SoundCloud: soundcloud.com/foxstevenson