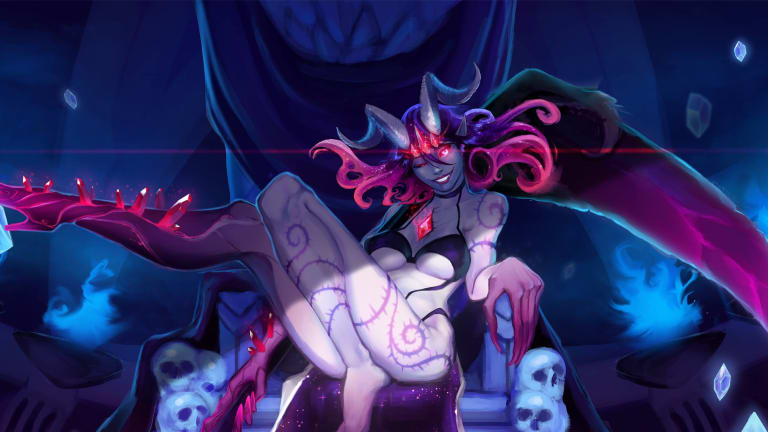 GHOST DATA Returns with New Album Release, Void Walker
GHOST DATA changes tack and embraces a dark and powerful midtempo style in his latest offering, Void Walker.
GHOST DATA (real name Xzaviyer Hoffpauir) is a talented artist from Houston, Texas who is best known for the fan-christened "dreamsynth" style of music. It's a dreamy, ethereal, and uplifting sound around which Hoffpauir has developed an ongoing story for a character called The Shepherdess.
As evidenced in his art style, Hoffpauir draws inspiration from a wide variety of video game composers such as Nobuo Uematsu (Square Enix/Final Fantasy) and Shoji Meguro, as well as other major musical influences such as Porter Robinson, Purity Ring, and deadmau5. 
In order to keep things fresh and to provide a stark contrast to his previous releases, Hoffpauir has returned with the Void Walker LP. It's an immensely different offering when compared to the melodic, airy vibes of The Shepherdess album, and the latest chapter in his striking musical odyssey.
With Void Walker, Hoffpauir introduces a plethora of new sounds and characters, as well as an entirely new genre of music that bucks his typically dreamy, progressive style. Instead of his signature "dreamsynth" production, Hoffpauir embraces a dark, pseudo-industrial, midtempo sound that is an excellent fit for an album aptly titled Void Walker.
When asked about the album Hoffpauir said, "With Void Walker, I wanted to create something entirely different from what I normally make, almost enough to alienate my current audience."
The album's title track immediately thrusts you into the dark and ominous adventure in which you're about to be immersed. Smartly capitalizing on the rising trend of dark and aggressive midtempo music popularized by artists such as Rezz and 1788-L, Hoffpauir makes the style his own and channels it into the creation of newest character, the Void Queen. 
"While creating the Void Queen, I knew it would be necessary to create an LP based around her character," Hoffpauir said. "Narratives need a character for the story, and she fit perfectly into both sound and verse."
Two of our favorite tracks from the release are the third and eleventh tracks on the album, "Siren's Call" and "Gods of the Artificial" respectively. We spoke with Hoffpauir about each track, and his perspective gave us a great deal of insight into how he viewed the story of the album as a whole.
In regards to "Siren's Call," Hoffpauir emphasized that this track plays an integral role in building to the album's crescendo - a key point of accelerating violence and energy. As he eloquently described it:
"Siren's Call hides in the waters wake before striking hard and relentlessly, slinking back only for a few moments to build into its next kill. I wanted to convey that feeling of being stalked by a predator, its beautiful voice but a false sense of security before being devoured whole."
On the opposite side of the spectrum, "Gods of the Artificial" portrays an ambiance of vast distances and rising emotional tension. While neither violent or aggressive, "Gods of the Artificial" is structured to serve as the veritable calm-before-the-storm. On this track, he said:
"I wanted to create something cinematic that fit the title for Gods of the Artificial. Just that title alone gave me the inspiration I needed to invent this sense of somethign in the far off distance, growing more vast with each advancing pace. I wanted something epic, but harrowing, almost as if it were the buildup to the final boss of a video game"
If artists like Rezz, Blanke, 1788-L, and BlackGummy are your cup of tea, we highly suggest you check out Void Walker!
FOLLOW GHOST DATA:
Website: ghostdata.com/
Facebook: facebook.com/GHOSTDATAOFFICIAL
Twitter: twitter.com/GHOSTDATA_
SoundCloud: soundcloud.com/ghost_data
YouTube: youtube.com/channel/UCgg4V34MDerF5HkP8DOeUOg
FOLLOW VIRTUOSOS ENTERTAINMENT:
Website: virtuososent.com
Facebook: facebook.com/VirtuososEnt