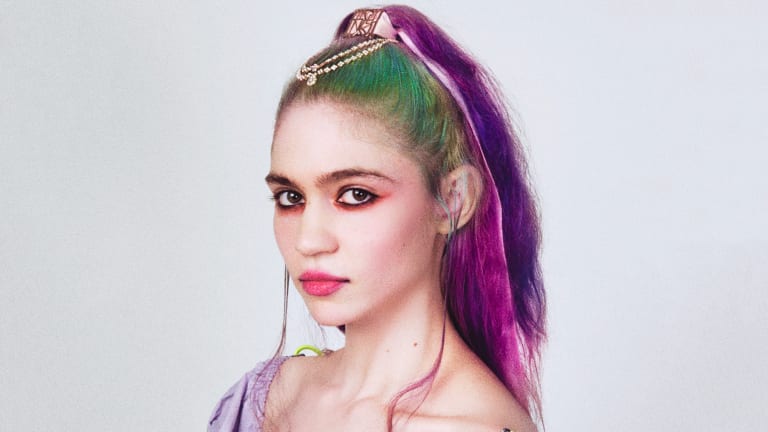 Grimes Releases Self-Directed Music Video for i_o Collab "Violence"
Grimes is extremely talented.
Grimes (real name Claire Boucher) has released a self-directed music video for her collaboration with rising techno talent i_o (real name Garrett Lockhart), "Violence."
With this cisually and choreographically stunning offering, Boucher has proven that her expertise are ever-expanding. The music video for "Violence" begins with Boucher reading Sun Tzu's The Art of War in front of white, Greek-esque columns. The scenery remains the same throughout the video while dancers perform weapon-inspired choreography periodically holding an assortment of weapons. "Violence" is the second single off of her forthcoming album, Miss_Anthropocene.
Boucher's career has been looked upon with nothing but praise and admiration. Her fourth studio album, Art Angel, pushed her further into the spotlight and made her a household name. Pulling influence from an assortment of genres such as synth-pop, dream-pop, and electronic to name a few, Boucher's distinct sound clearly angles her at an upward trajectory.
Lockhart's career has also seen a quick upward trajectory, releasing tunes on both mau5trap and Bite This! very early on in his career. Since then, he's released a number of high profile tracks including "Truth" with Jauz, a remix of Above & Beyond's "Alchemy," "Death By Techno," and "Let Me Go" with Tommy Trash and Daisy Guttridge. 
Follow Grimes:
Website: grimesmusic.com
Facebook: facebook.com/actuallygrimes
Twitter: twitter.com/Grimezsz
Instagram: instagram.com/grimes
FOLLOW I_O:
Facebook: facebook.com/iunderscoreo
Twitter: twitter.com/i_oofficial
Instagram: instagram.com/i_oofficial
SoundCloud: soundcloud.com/i_oofficial