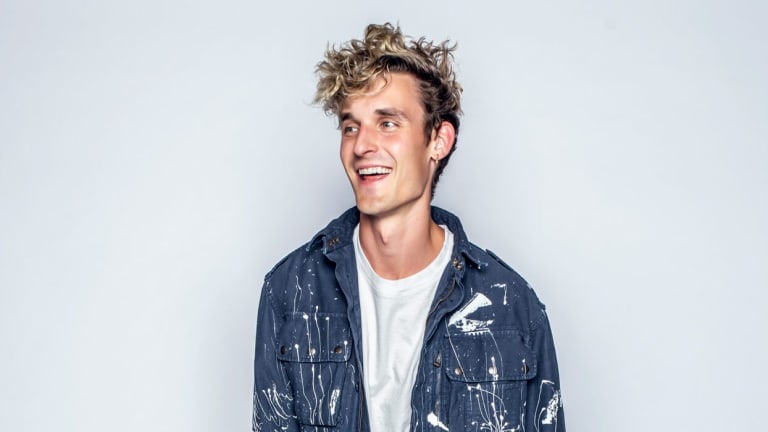 GRiZ Teams Up with Wiz Khalifa and a Choir on Soulful Tune "Find My Own Way"
GRiZ just wants to make happy music for the people.
If you were worried about future funk phenom GRiZ during his year long hiatus of 2018, his newest release ought to dispel any notion that the 28-year-old has lost any of his lustrous trademark energy. "Find My Own Way" featuring Wiz Khalifa is the latest in a string of promotional tracks leading up to the release of his sixth studio album, Ride Waves.
Continuing this theme of positivity from the other lead tracks ("It Gets Better," "Im Good," and "A New Day"), "Find My Own Way" is a soulful, feelgood song slated as closer on the album's 14-song tracklist. Its artwork seems to indicate as much, depicting a lucid yellow brick road leading from a wondrous, colorful world that we can only hope mirrors the soundscapes comprising his upcoming project.
The track kicks off with playful piano scales that dance their way through the songs entirety, before greeting the listener with signature sax-squeals from GRiZ and mic greeting from its emcee. The Pennsylvania rapper opens with autotune-assisted harmony on a track that finds GRiZ' production largely dancing in the background behind the more prominently featured vocals. In addition to Khalifa, Griz also enlisted a full choir to deliver the hook, reiterating the soul and gospel touched on the album's previous singles.
The five-minute-long track's production is purely instrumental, as the keys and brass work as accents to an already uplifting cadence and message from its vocalists. The song also serves as a showcase of Griz' ability to make his energy communicable through his art, and it's so infectious that is sometimes overrides any of its shortcomings.
"Find My Own Way" by GRiZ and Wiz Khalifa serves as an effective album closer in what's looks to be a joyously fun and colorful ride on Ride Waves, due out April 5th. Stream or download the single across platforms here.
FOLLOW GRiZ:
Facebook: facebook.com/mynameisGRiZ
Twitter: twitter.com/Griz
Instagram: instagram.com/griz
SoundCloud: soundcloud.com/griz
Follow Wiz Khalifa:
Facebook: facebook.com/wizkhalifa
Twitter: twitter.com/wizkhalifa
Instagram: instagram.com/wizkhalifa