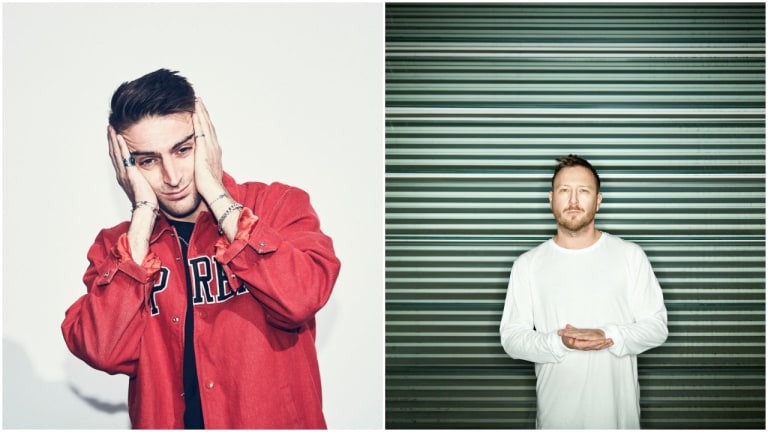 Habstrakt and MARTEN HØRGER Collide on Bass House Heater "Ya Think"
These two are a perfect match.
French house mainstay Habstrakt has teamed up with German maestro MARTEN HØRGER for "Ya Think," out via Monstercat. 
"Ya Think" is an unstoppable bass house heater from front to back. Distorted sirens and crisp snares lead listeners into a winding build-up filled with ominous samples. The catchy pre-drop vocal acts as a gateway into a commanding bassline and screeching synths that are fine-tuned to get listeners moving. Both Habstrakt and MARTEN HØRGER's unique flair can be identified throughout the duration of "Ya Think," making this a proper addition to both artist's catalogs. 
Habstrakt's grimy, cinematic sound has found its way all around the dance music world, releasing on dubstep-influenced labels like Never Say Die as well as house-focused imprints like Spinnin' Records. In 2017, he released his unforgettable collaboration with Skrillex, "Chicken Soup," as well as his widely popular track with Dombresky, "Antigone." The French producer has been on a roll this year, as he has released "Free," Es Isso" with Asdek, and "Show Me" since January.
MARTEN HØRGER's discography has remained consistently impressive since the start of his career. In 2018, he dropped his two-track Hands Together EP via Tchami's CONFESSION imprint, which included his hit "You Don't," a joint effort with frequent collaborator Neon Steve. He teamed up with Neon Steve again in 2019 on "WE'RE BACK" as well as "On The Move" earlier this year.
FOLLOW HABSTRAKT:
Facebook: facebook.com/Habstrakt
Instagram: instagram.com/habstrakt
Twitter: twitter.com/habstrakt
SoundCloud: soundcloud.com/adam-habstrakt
FOLLOW MARTEN HØRGER:
Facebook: facebook.com/marten.horger
Instagram: instagram.com/marten_horger
Twitter: twitter.com/martenhorger
SoundCloud: soundcloud.com/marten-horger