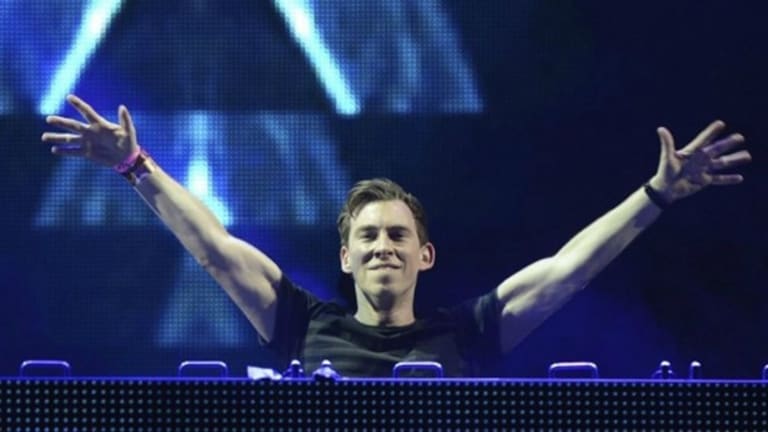 Hardwell Partners with China Mobile for "We Are One" Featuring 'Queen of C-Pop' Jolin Tsai [LISTEN]
The king of Big Room, Hardwell is back with an absolute banger featuring Chinese pop sensation, Jolin Tsai. Listen to "We Are One" here!
The king of Big Room, Hardwell is back with an absolute banger. And this one features Chinese pop sensation, Jolin Tsai. Listen to "We Are One" here!
Hardwell has been keeping himself on his toes through the summer with new music and banging festival sets. His latest release "Creatures of the Night" with Austin Mahone, however didn't quite seem to hit the nail on the head for a lot of die-hard Hardwell fans. But then again just a few days ago, the old Hardwell signature sound we all love is back with "We Are One" featuring Jolin Tsai. After dropping the track in his set at Ultra Music Festival in 2016, the track finally released to the Asian markets in a rather innovative way earlier last week. This release followed up the news of a mammoth collaboration in the works between Hardwell & KSHMR soon to come!
Known for his unique tech integrations for his releases, this time again was no different for Hardwell. From being the first artist to release a track via Shazam to being the first DJ to launch his own personal Facebook Messenger bot, this time we see Hardwell partner with China Mobile CoOperation, China's largest mobile operators. In turn, China Mobile made the record available to its 800 million subscribers as a first listen premiere for this mammoth pop-meets-dance collaboration between Hardwell and Jolin Tsai, also know as the 'Asian Madonna.'
"We Are One," which released through Universal Music, has already hit No. 1 in the Taiwanese iTunes chart and on the Chinese download platforms QQ and Kuwa, which is an impressive feat for a track just about a week old as well as being sung in English. Hardwell has always been a rage in the Asian region and this is evident through his immense fan following at all his shows in the area and his Residency in Macau's Club Cubic as well! The immense success of this track with Tsai, who herself is one of thehighest paid Chinese celebrities according to Forbes, only reinforced that!
This track is packed with all the ingredients of a signature Hardwell progressive house banger. From the energetic melodic builds, to the distinctive Hardwell flavored beats and plenty of drive to ignite the largest of festival main stages, this one's sure making it big. Tsai's voice on the other hand brings a unique pop zest in equal proportions to the track. This is not the first time Tsai has worked alongside an EDM producer. Last year, Alesso also released a version of "I Wanna Know" which features the Taiwanese pop-star's vocals on it.
Speaking about the collaboration and expressing his excitement about the Partnership with China Mobile Hardwell said,
"Working with Jolin on this record was a great experience and we wanted to find a way to deliver it to the fans in a unique way. Joining forces with China Mobile opens up a direct doorway to many of Jolin's and my Asian fans so it felt the perfect opportunity for us to bring our world's together on 'We Are One' and deliver some fresh new music to millions of fans!"
He also went on to speak about the endless and exciting prospects of dance music in Asia saying,

"Anyone who follows my career knows I've always tried to find new and cool ways to release my music. I've been touring Asia for many years now, both as a festival headliner and with my new Macau residency. I've also brought along my Revealed Recordings crew to hold down a residency in Guangzhou. Asia is one of the most exciting, emerging markets on the planet for dance music right now!"
Currently the track can only be bought in the Asian region and is unavailable in the United States. However, an alternative version for the other markets is in the works and will be coming soon via Revealed Recordings on a forthcoming Hardwell EP which is yet to be announced!
H/T: EDM Sauce