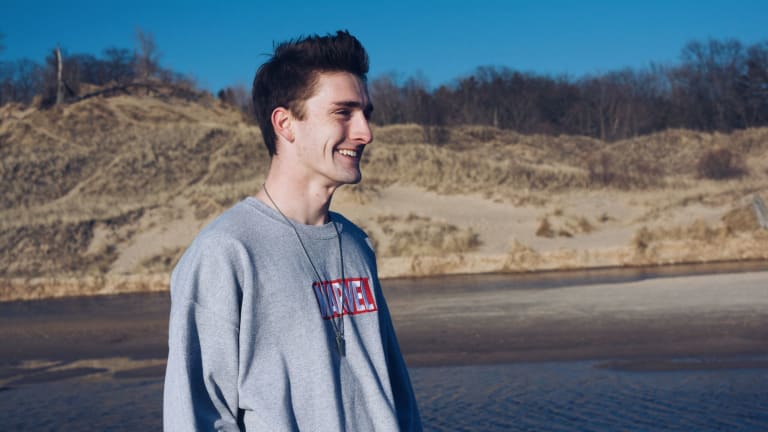 Hayd Shares Indie-Pop Single "I Fall Apart" on Proximity
"Sometimes on the inside, we fall apart, but we don't have to leave our hearts like that."
Michigan native singer/songwriter Hayden Hubers, better known as Hayd, has shared his latest single, "I Fall Apart." It's out now on Proximity.
Fans recently got to hear this latest addition to Hubers' discography. The track follows in true Hayd fashion, featuring lyrics rooted in love and soft piano, similar to his most popular single, "Superhero." Hubers quickly grabbed the attention of thousands with that single, which is now currently sitting at just under 1 million streams on Spotify in the four weeks since its release. Hubers has followed up this hit track with another song to tug at the heartstrings.
"I can't fully remember what spurred on the idea, but I'm pretty sure I watched a romantic movie and convinced myself that I should write a love song right after it," he wrote to the personal blog where he shares the inspiration behind all his tracks. "I played it for my friends and they really liked it… and seeing their reaction made me fall in love with the song. It turned out to be this cute little love song with a darker twist at the end."
Hubers explains that "I Fall Apart" came from the harsh reality of unrequited love. Seemingly a love song about being someone's perfect other half, the track ends with an unexpected outro. Listeners are met with a disheartening last verse that goes, "I know we're nothing more than friends, and you'll probably be with him in the end. So every time I see your face, on the inside, I fall apart."
"You may be everything that the person you love lacks, but that doesn't count for anything if you aren't with them," he explained. "It ends with the sad realization that the other person doesn't really even know you exist. On the inside, you are literally falling apart because you love someone so much, and yet that love is a mystery to them."
Despite the somber tone of the last verse, Hubers said writing the song was a learning lesson on how love can be unfavorable sometimes. "I Fall Apart" serves as a sonic reminder to young lovers that it's okay to not be okay.
"It has been quite the journey with this song. I wrote it back in March and had multiple different release dates that I called off every time last minute," he explained. "It was somewhat hectic, but I'm honestly so glad it's finally out... Sometimes on the inside, we fall apart, but we don't have to leave our hearts like that."
Stream or download Hayd's "I Fall Apart," out now on Proximity. 
FOLLOW HAYD:
Website: hayd.blog
Instagram: instagram.com/haydenrhubers
SoundCloud: soundcloud.com/haydmusic
FOLLOW PROXIMITY:
Facebook: facebook.com/proximity
Twitter: twitter.com/proximitym
Instagram: instagram.com/proximity
SoundCloud: soundcloud.com/proximity