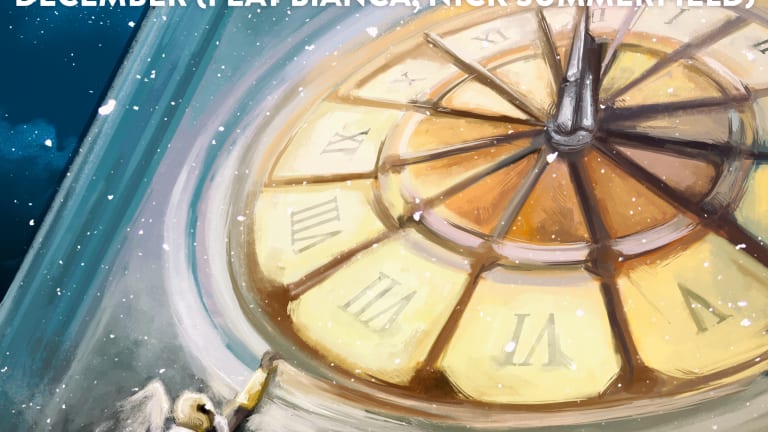 Kalide, Outr3ach, Evix - December (feat Bianca, Nick Summerfield) - LYRIC VIDEO
Official Lyric Video Premiere for "December"!
Out today on Hegemon, "December" by Kalide, Outr3ach and Evix is a striking electronic pop anthem that offers a moody celebration of the winter season just passed.

Featuring the vocals of Bianca and Nick Summerfield, "December" reminisces on the nature of things coming to an end - be it a relationship, a season, a year, or even song.
Endings are often painful, but fresh beginnings are truly magical. In the spirit of that musical magic, we give you "December".

Be sure to check out the excellent Lyric Video from our friends at Magic Music!
LYRICS:
We were drunk, walkin' blind, it was okay
Well that's a lie, what you're tryna' hide from
Failed fast, cause we held, all we could take
you crossed a line that you weren't prepared for
How can you tell, there's a sign that you're ever ready
You tried to fight the tide, it pulled you under
My head resigned by the time that the night was ending
Well lucky you found that lightning to your thunder
Dreams are never enough
Started out with a vision
Its not how we've been living no
We weren't ready for love
Taking more than we were giving
We'd never listen no
Still young so my heart felt free
I didn't mean to wander
Swear i can be better
At midnight you didn't come for me and
Ill always remember
The last night of December
It was cold with the sky dropping snowflakes
I left ya side didn't know that i'd found
A small spark that would light up an old flame
i couldn't hide i was in a meltdown
The ball dropped knew that i should be looking for ya
I tried to find a high to pull me under
It all stopped when i caught you under covers
But i never found the lightning to my thunder
Dreams are never enough
Started out with a vision
Its not how we've been living no
We weren't ready for love
Taking more than we were giving
We'd never listen no
Still young so my heart felt free
i didn't mean to wander
I Swear I can be better
At midnight you didn't come for me
And Ill always remember
The last night of December