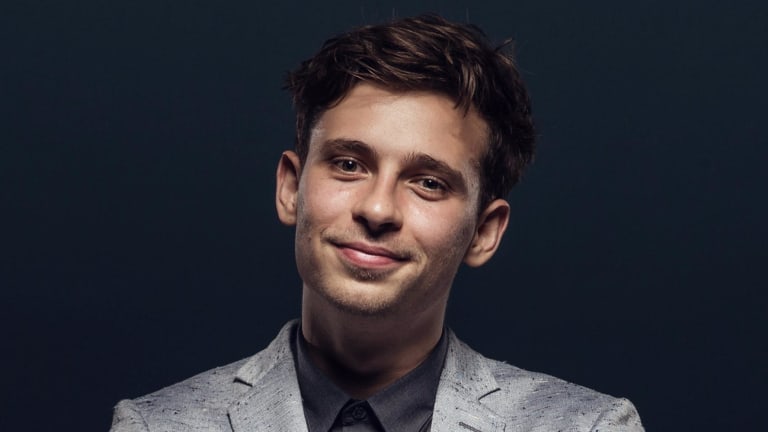 Flume Is Back To Say Hello With A New Mixtape
Hi This Is Flume is his first release since 2017.
The wait is finally over. Flume has officially broken his year-and-a-half hiatus with the release of his new mixtape titled Hi This Is Flume. The Australian DJ/producer announced early this year music was coming our way. Rumors were flying whether that music would be a collaboration with Gorillaz co-founder Damon Albarn. Though we may have to wait for that potential project, we don't have to wait any longer for original content from the famed genre-defining producer. The 17-track mixtape is 38 minutes of eclectic gold, out now on the Australian record label Future Classic.
Flume (real name Harley Edward Streten) is flexing his production skills on this collection. He's mixed in some of his favorite artists throughout including remixes of SOPHIE's "Is It Cold In The Water" - on which he collaborated with Eprom. Other featured artists are from JPEGMAFIA, KUČKA, HWLS, and slowthai. The effort is an amalgamation of pattern skips, atmospheric tones, and unconventional bass. It's a step away from the mainstream which we saw with such hits as "Never Be Like You" and is more in line with some of his original work back in 2012.  
Accompanying the drop of the mixtape is an amazing visualizer created by Jonathan Zawada. 
Streten blasted on to the scene with his self-titled debut album in 2012. Since then, future bass has become one of the biggest genres in EDM. His last official release was his 2017 EP Skin Companion II which was the follow up to his Grammy Award-winning album Skin. He recently documented the story of his rise and the label, Future Classic, with the documentary When Everything Was New.
Catch Streten at Lollapalooza i August 1-4th in Chicago. He will also be at Summer Sonic 2019 performances in Osaka, Japan on August 17th and 18th.
Stream Hi This Is Flume here and find the tracklist for the effort below.

1. Hi This Is Flume
2. Ecdysis
3. High Beams (ft. Slowthai)
4. Jewel
5. ╜φ°⌂▌╫§╜φ°⌂▌╫§╜φ°⌂▌╫§
6. Dreamtime
7. Is It Cold In The Water? (Flume x Eprom Remix)
8. How To Build A Relationship (ft. JPEG Mafia)
9. Wormhole
10. Voices (ft. SOPHIE & Kucka)
11. MUD
12. Upgrade
13. 71m3
14. Vitality
15. Daze 22.00
16. Amber
17. Spring (w/ Eprom)
FOLLOW FLUME:
Facebook: facebook.com/flumemusic
Instagram: instagram.com/flumemusic
Twitter: twitter.com/flumemusic
SoundCloud: soundcloud.com/flume