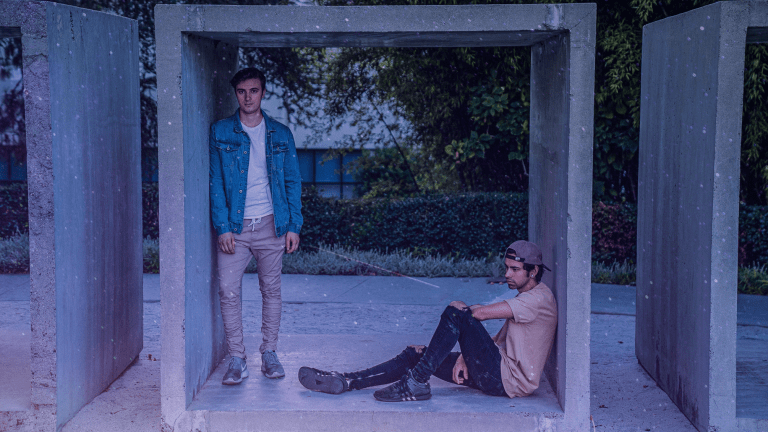 Highlnd Returns to Proximity for Alex Venegas Collab, "Dry Blood"
The duo followed up their hit track released on Proximity earlier this year, "Throw Me A Line," with their new single, "Dry Blood.
When Los Angeles-based electronic pop duo Highlnd debuted on Proximity back in March of this year with "Throw Me A Line," it was a clear sign the two young artists would see substantial growth in their emerging careers. The track was well received throughout the music community and currently sits as their most-streamed single. Now, nearly nine months later, the duo have returned to the reputable imprint for their new collaborative track alongside Alex Venegas, "Dry Blood."
Though Highlnd (comprised of Joel Ferber and Elliot Sorgen) define themselves as electronic-pop, their latest single draws inspiration from math rock, a subgenre of indie rock popularized in the 1980s. "Dry Blood" was originally produced with the intent of being an instrumental, built around the math rock-esque guitar tapping riff. "Once we got in the room with our two co-writers, Alex Venegas and Alex Veltri, that's when it really started coming to life," said Hghlnd in a joint statement.
Blending together organic and live instrumentation has been a staple of the Highlnd brand since their first official release in 2018. "Dry Blood" makes no exception, making for a lush track backed by powerful verses and a minimal yet emotional chorus.
"The song is about seeing all of the red flags in a situation, but going for it anyways against all reason," said Highlnd. "The cinematic production is sort of dark and ominous during the verses, building gradually into a minimal chorus, and then giving an epic payoff during the drop."
Alex Venegas, vocalist and co-writer of the track added, "Dry blood is an emotional song about a person who misses the obvious signs that someone they fell in love with is gonna hurt them, but then takes it further coming to terms with the fact that he ignored the signs, because even now he'd do it all again."
Stream or download Highlnd's "Dry Blood" featuring Alex Venegas, out now on Proximity.
FOLLOW HIGHLND:
Facebook: facebook.com/highlndofficial
Twitter: twitter.com/highlndofficial
Instagram: instagram.com/highlndofficial
SoundCloud: soundcloud.com/highlndofficial
FOLLOW ALEX VENEGAS:
Instagram: instagram.com/alexvenegasmusic
FOLLOW PROXIMITY:
Facebook: facebook.com/proximity
Twitter: twitter.com/proximitym
Instagram: instagram.com/proximity
SoundCloud: soundcloud.com/proximity