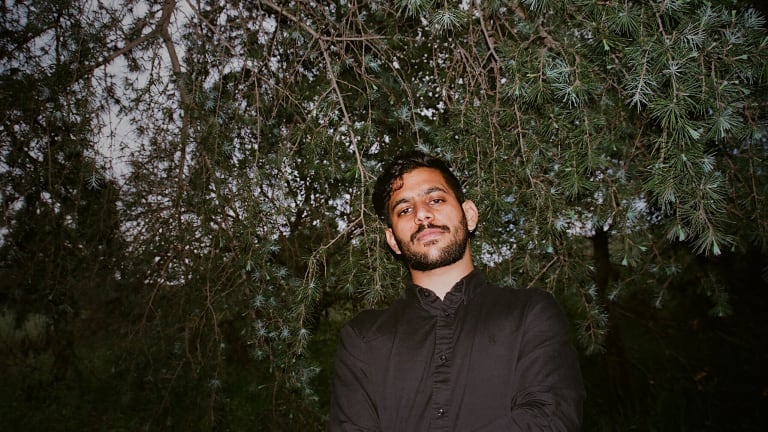 Hotel Garuda Debuts as a Solo Artist with New Track "Head in the Trees"
The single is his first featuring his own vocals, blending indie and electronic influences.
Fresh off the tour bus for One Reason, his headlining run, Hotel Garuda (real name Aseem Mangaokar) has released new music for the first time as a solo artist. 
Titled "Head in the Trees," the track displays the artist's aesthetic as an individual, giving an easygoing, indie vibe to the song. It was released April 26th on Mom + Pop Music. With a creative integration of synthesizers and live instruments, the track qualifies as both electronic and indie rock.
Hotel Garuda was originally a duo, made up of Mangaokar and Manila Killa (real name Chris Gavino). They announced their split last June, though neither has left the electronic music scene. Both are currently on tour with Hotel Garuda supporting Jai Wolf (real name Sajeeb Saha) and Manila Killa finishing up his "1993" headlining run. 
"Head in the Trees" is also the first time listeners will have heard vocals from the producer, making it Mangaokar's debut as a singer as well. His raspy lyrics are matched by an upbeat bass line and vibey synths. It creates a springtime sound but is still moody enough to be adaptable to a club or live outdoor show. The song is equal parts relatable and personal, showing it was made with care. 
"I want to show a side of me that hasn't been shown before," the artist said in a press release. "I wasn't sure if people would take me seriously as an artist until I made something that was entirely mine." 
He has absolutely accomplished that goal with the creativity of this track, and will follow up its release with his aforementioned follow up tour run.
FOLLOW HOTEL GARUDA:
Facebook: facebook.com/hotelgarudamusic
Twitter: twitter.com/hotelgaruda
Instagram: instagram.com/hotelgaruda
Soundcloud: soundcloud.com/hotelgarudamusic