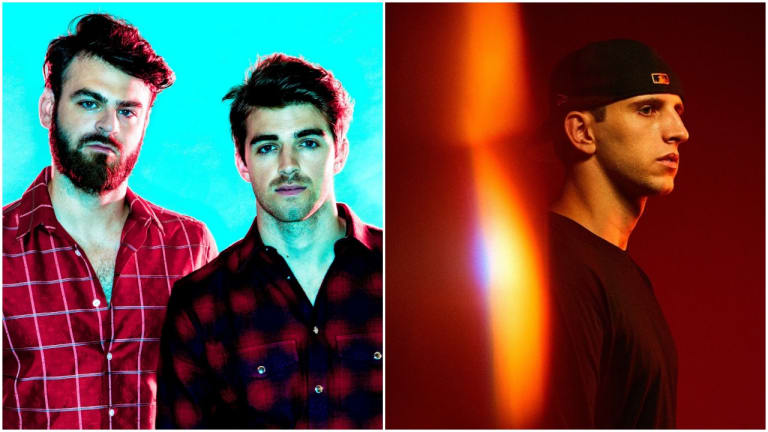 Illenium and The Chainsmokers Stun in "Takeaway" Video
The music video for "Takeaway" featuring Lennon Stella has arrived.
It's been half a festival season since Illenium and The Chainsmokers took to the stage at Ultra Music Festival to debut their monumental collaboration. Not only is "Takeaway" featuring Lennon Stella finally out, but accompanying it is a stunning music video.
The video depicts Illenium, (real name Nicholas D. Miller) The Chainsmokers (real names Alex Pall and Drew Taggart) and Stella exploring Manhattan's Vessel structure. Between overhead shots, helicopter footage, and dramatic closeups, the visual accompaniment perfectly suits the melancholic tone of the song.
Last week, the aforementioned artists had teased the music video and song release with a guerrilla promotion. In a video depicting a text message conversation between them, they shared a phone number and promised a "little surprise" to anyone who added it as a contact on the outreach platform Community.com. Once they did, fans were sent a link to a 15-second clip of the video - and then a link to the full video minutes before its premiere.
Miller, Pall and Taggart have all had a similar career arc in the world of EDM. After launching their respective projects in 2012-2013, both acts' biggest breakout years were arguably 2015-2016. Recently, Miller is preparing to release an album titled Ascend and play his first headline show at Madison Square Garden in New York City whereas Pall and Taggart are executing a foray into film.
Stream or download Illenium and The Chainsmokers' "Takeaway" featuring Lennon Stella across platforms here.
FOLLOW THE CHAINSMOKERS:
Facebook: facebook.com/thechainsmokers/
Twitter: twitter.com/TheChainsmokers
Instagram: instagram.com/thechainsmokers/
SoundCloud: soundcloud.com/thechainsmokers
FOLLOW ILLENIUM:
Facebook: facebook.com/ILLENIUM
Twitter: twitter.com/ILLENIUMMUSIC
Instagram: instagram.com/illeniummusic
SoundCloud: soundcloud.com/illeniumofficial