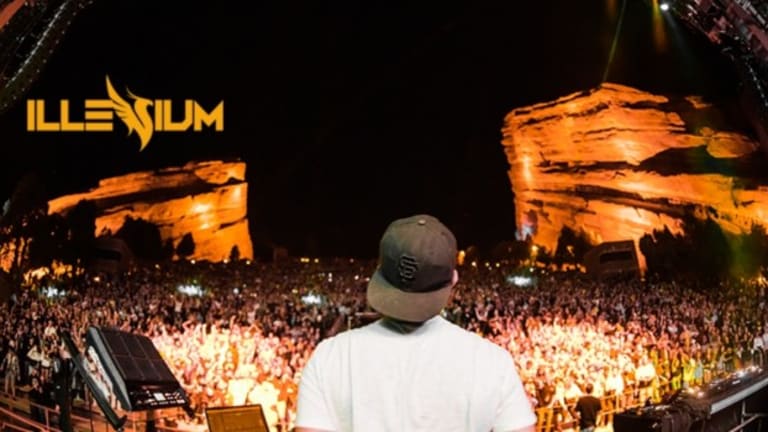 ILLENIUM CONTINUES TO TAKE OVER FUTURE BASS WITH BREATHTAKING NEW ORIGINAL [LISTEN]
A song to put you in your feels.
2016 was a huge year for future bass star Illenium. His iconic remixes, of tracks like Flume's "Say it" and The Chainsmokers' "Don't Let Me Down", garnered millions of online streams and set him on a meteoric rise to fame. Not to mention, he released his massively successful debut album Ashes, which was followed up by an equally impressive remix album.
Now, having established himself in the electronic music world, 2017 looks to be the year he is going to dominate it. With two breathtaking originals already under his belt, "Feel Good" with Gryffin and Daya, and "Fractures" featuring Nevve; Illenium continues to shine on his latest track.
"Sound Of Walking Away" is an emotionally charged future bass anthem, featuring sultry vocals from Estonian singer-songwriter Kerli. 
With this track, Illenium continues to cement his unique and powerful take on the future bass genre. Kicking off with gentle guitar riffs, accompanied by Kerli's smooth voice, the track immediately radiates senses of beauty and moving sentimentality. 
As expected from Illenium, the drop is heavy on the melodies, and evokes a deep feeling of euphoria. Also, that powerful kick drum takes the already emphatic soundscape to another level! Moreover, rather than a copy pasted second drop, Illenium tweaks it just enough to make it stand out. The inclusion of a fluid hum in the background, and that subtle stutter at 3:22, add further emotional resonance to the song.  
Stream below:
 Another thing to note is that the track reiterates Illenium's penchant for employing poignant vocalists, to truly bring his tracks to life and resonate fully with his listeners. His music tends to have a heavy influence by passionate vocals - all 10 of the tracks on his album featured singers! "Sound Of Walking" away continues this trend, as Kerli's raw and intense vocals sync up perfectly with Illenium's electrifying production. 
He has included the lyrics to the song in the Soundcloud release for a reason too, since it builds on the emotional atmosphere he is trying to create here. The song narrates the age-old tragic tale of finally moving on from the person you love after being mistreated one too many times. 
However, the theme does not focus on sorrow, but rather on strength. It's an uplifting and moving message to dominate your insecurities and stay true to yourself. 
All in all, the natural chemistry between Illenium and Kerli shines on this track, encapsulating her chill-inducing voice and his melodic prowess to create a powerful and captivating soundscape. We can only hope they collaborate again in the future!